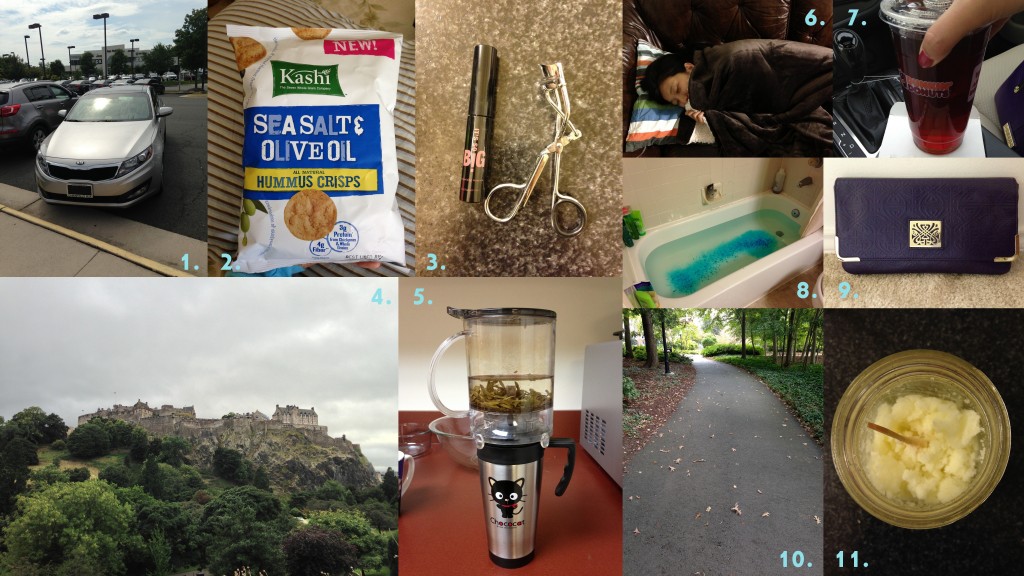 1. Kia Optima – I love my new car. Every time I go to drive it, I smile a little. The dual moonroof, the heated steering wheel and seats, the keyless entry, and the maneuverability are just some of the features that make it a pleasure to drive. I love the little touches too, like when the lights turn on inside when I get close to it at night. It's like a nice little greeting, welcoming me back to the car and making me feel safer by showing me the inside is a-okay. I'm having a lot of fun with my car and I know I'll be enjoying it for many years to come.
2. Kashi hummus crisps – This bag shown was sent to me for free by BzzAgent. I also got smaller ones of a different flavor from Goodies and I've gobbled all of them up. I like how they're so crisp and light – none of that greasiness from normal chips, but still the same kind of crunchy satisfaction. I enjoy the flavor a lot too, which is mild and makes me keep eating more. It also feels like a healthier snack in general, so there's less of a guilt component to chomping on them.
3. mascara & eyelash curler – I started to use a bit of mascara when I started to work since I want to look presentable and not like I just rolled out of bed. It's been fun to do a little more than wash my face and put on lotion or BB cream. At first I was trying the Pixi mascara from the August Ipsy bag, but it'd leave me with darker under-eyes by the end of the day. I needed something that could withstand the heavy rubbing I tend to do without realizing. I'm used to touching my face and not worrying about stuff coming off or getting things dirty, so using makeup is not my forte. It'll usually end up smeared all over the place over the course of the day, which is no bueno. Then came the September Ipsy bag, which had an It's So Big mascara that I tested and found to be much better! It stuck to my eyelashes like it grew there naturally so now I don't have to remember to not touch my eyes.
4. UK trip – Our trip abroad was so much fun! Pictured here is Edinburgh Castle, one of the many places we checked out in the four cities we visited on our 10-day vacation. Panda and I both liked various aspects of what we saw, experienced, tasted, and bought. I'm so glad we were able to do that trip and I look forward to all the places we'll go in the future. For me, it was great to go back to the UK after 5 or 6 years, and for Panda, it was fascinating to leave the country for the first time. I'm glad we got to do it together and I know we'll be returning.
5. Perfectea brewer – At the office are these two PerfecTea brewers from Teavana. They really do brew a perfect cup/mug of tea and I love using them! It's always so cold in the office that I am constantly drinking tea – something like 8 mugs a day. That excludes any soda or water I might have around lunch time, so you can imagine how much I'm chugging all the time. It's so easy to brew my tea with this contraption and I never have to worry about tea leaves getting in the way. Amazing.
6. sherpa blanket – I've snuggled up in this blanket every night and enjoyed the coziness oh so much. It's instantly warm and soothing. In fact, it's so good at putting me to sleep that I must beware if I crawl in the covers after a shower – I'm sure to fall right to sleep! I really wish I could bring this to work to curl up in, but would be a bit too much. Plus, if I was that snug I might not get much work done. I'm trying to convince Panda to get one more for us (me) to use. Maybe when we move to the new place.
7. Dunkin Donuts free drink Mondays – Starting 9/9 through 10/14, Dunkin Donuts in the metro DC area are offering a free iced tea or coffee drink! I've taken advantage of this every Monday that I've been working so far and I'm sad that there's only one more left. I always get the peach iced tea, no ice, half sweet. Yum. Sometimes if they still have powered Munchkins or chocolate glazed ones, I'll get some, but lately I've gone after work and by 7 pm they're out of most Munchkins.
8. baths – It's been years since I took a bath, but since I've gotten so much bath stuff in boxes over the past couple of months, I decided I would start using them. I liked it so much that I'm doing one bath a week now. It's such a wonderful way to relax, clear your mind, take care of your body, and enjoy some peace. Each time I try a different bath salt, bubble bath, or bath soak. It's been a ton of fun and my skin is loving the extra attention!
9. Biba purse – I got this cool purse in the UK on our trip and it's been my daily bag ever since. I love the design and the quality of it. I do wish it had hooks for a shoulder strap, so I might try modifying it since I happen to have a strap that matches it pretty well. I don't want to ruin it though, so we'll have to see. For now I just hold it between my arm and body and for the most part it's not inconvenient.
10. walking to lunch – The majority of lunches at work have involved us walking to the Reston Town Center and choosing whatever sounded good at the time. I like that it gets us moving and out in the fresh air for at least half an hour a day. Certainly better than driving somewhere, though I am going to start wanting some more options after a few weeks of that selection. Whenever someone wants to go get Starbucks or a dessert, I try to go so I can stretch my legs and catch up with them. Now that the weather's cooling, it might not happen as much.
11. sugar scrub – Related to the bath thing, I've been using the sugar scrub that I made with Brandy of MommySplurge and it's fabulous. After soaking in a bath, I rub it in until the sugar granules melt and I'm left with super-soft skin enveloped in a layer of coconut oil. I don't even need to lotion after drying off! I'm all about keeping my routine as simple as possible – while I love trying products I generally am too rushed to go through a 273521-step skincare routine. So one product that will exfoliate and hydrate my skin in one fell swoop gets an A+ in my books.