It's Thursday Thoughts time with Jennifer!
~I finally,
finally
mailed off the nail polish I was trading in for the
Zoya Earth Day Exchange
. I know, I'm over a month late, but hey they didn't say I had to mail them in by a certain date! I kept putting it off because I didn't like the hassle of trying to mail in nail polish, but then as it turns out all I needed to do was wrap them tight and take them in to the post office. I guess when you know there are a ton of regulations around something, sometimes you make it seems worse than it is, you know? At first I had put them all into a USPS Small Flat Rate box, but then I found out you can't mail them Priority, so I had to repackage into another box, but that one weighed over a pound and anything over 13 oz is supposed to be mailed Priority. This was quite the dilemma for me, but as soon as I took it to the post office, they gave it a proper stamp or something and it was all fine.
~After getting my May Ipsy bag and having some items I wanted to trade, I decided to also gather all the other things I have that I won't really use. I put up a trade list on Makeup Talk and wow, it's been great! I loving swapping/trading and I've already arranged 5. It feels great to get products I actually want and will use and send off things to someone else who will appreciate the products more than I would. There are a lot of things I'd like to try that I haven't because online shipping always costs too much, so this is a way to save on the overall cost and try those products. So much fun! In fact, I put up my For Sale or Trade list on this site too, just in case you're interested.
~I have this tendency to want to know everything and not miss out, so when it came to Ramblings of a Suburban Mom, I decided to start from the beginning and get all caught up on her blog. There were 149 pages of posts to go through when I started about a week ago and I finally made it through them all. I admit, I mostly skimmed, but it was cool to see how her the blog has changed. Perhaps I should do that for my own blog sometime. I used to write a lot more and have less pictures, but now I make to try to include a picture with every post. There was also a period where I cycled through a text, photo, and video post to mix things up. Nowadays I have too much to write about to include as many video posts. How has your blog changed over the months and years?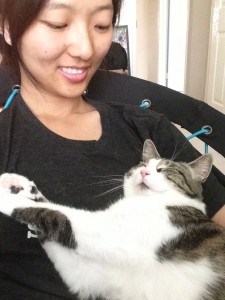 ~I cannot get enough of my cat Missy! I just love how she responds to my touch – when I pet her while she's sleeping, her tail will twitch, her arms will stretch out, paws will spread out, and I swear she's smiling a little bit. 🙂 She's such a happy cat and she's happy to sleep on me/next to me/near me, which is exactly what I want. She also lets me rub and scratch and pet her any way I want. What an easygoing nature! Lately she's been learning to tug at my heartstrings to get her way though, the sly fox. She'll meow and meow in this sad little "feed me" voice until I give her the tasty (and more expensive) treats. She gets up on the island in the kitchen and then reaches out her paw to "grab" me. Those adorable little eyes look into mine and I give in almost every time. She's too cute!!
~What do you do to keep hair off the carpet? Between my cousin and I, I've found we shed a ton of hair and it's so annoying to find strands EVERYWHERE. Vacuuming doesn't get it all out and I don't have time to go around picking them up all the time. Sometimes in bed I'll stretch out and get a strand in between my toes and for some reason that feeling really grosses me out! It's funny how hair can be so wonderful and beautiful when it's on your head, but the moment it falls out it's icky. If you shed a lot of hair too, what do you do about it??
~I've been in a funk lately, bumming around. :-/ It's been hard to get motivated to do anything and it makes me feel like a bad person. I see all these super high-achieving people around me and I wonder if there's something wrong with me because I don't care to be overworked like them. I used to be super ambitious and also want a fantastic career, but now I'm more inwardly focused and establishing a good family life has become my priority. Unfortunately, that side of things means spending money rather than making it and well, you still gotta make a living, right?
So what are your thoughts on this very fine Thursday?