This time around the info card became a pamphlet so they could add a bunch of extra content. There's even a recipe in there and background info about the company. I've yet to read it all, but will get around to learning more as I eat everything.
Love With Food is $12 per box (or as discounted as $120 for an entire year, with an option in between) and comes with 8 or more snack products. Boxes are sent monthly with no option to skip. They offer a referral program that earns you points towards products or boxes.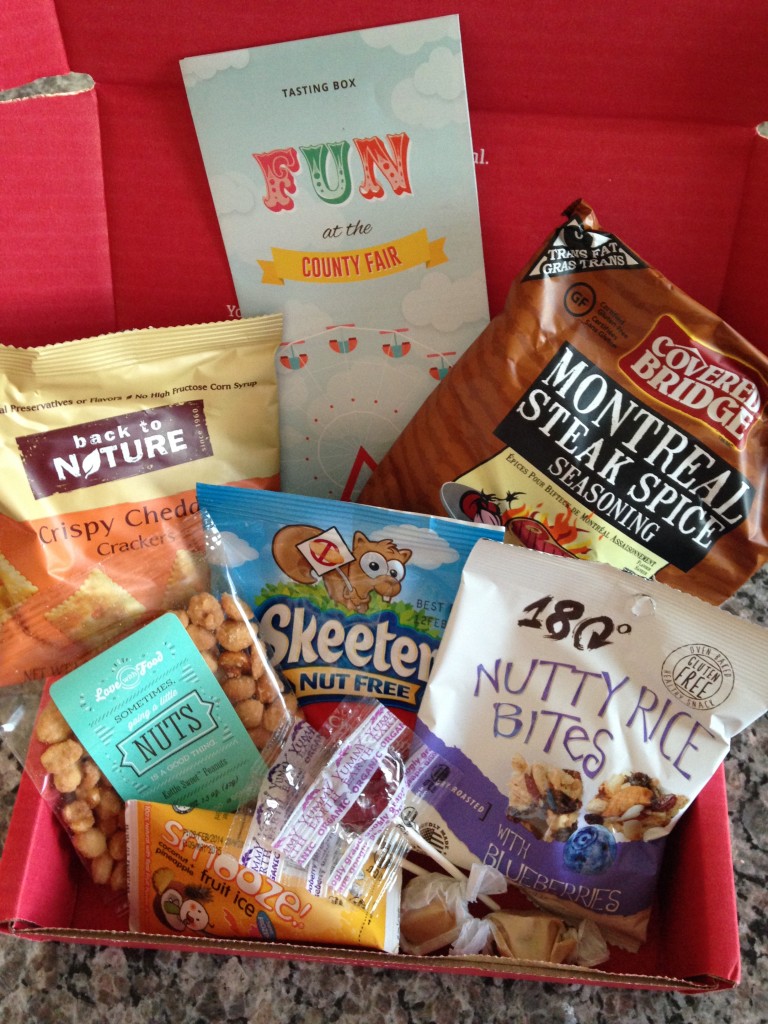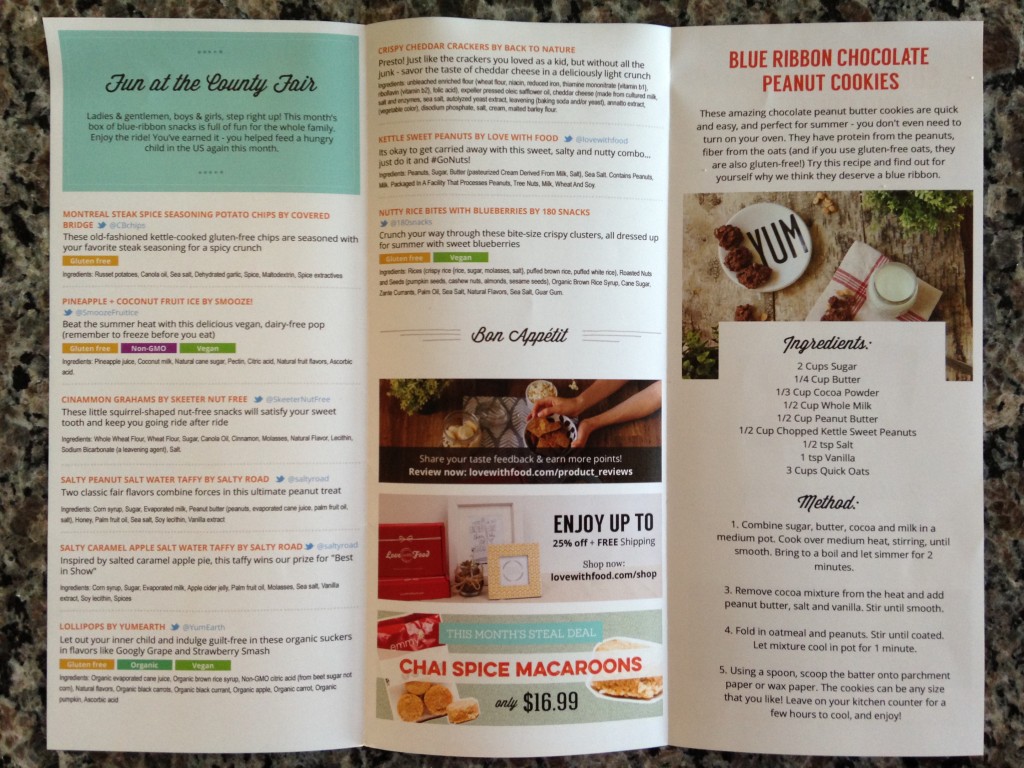 (click to enlarge and read messaging)
Alright, summer fair! It's been ages since I've been to one and I probably won't get around to it this year. So far I only tried the Skeeter Nut Free Cinnamon Grahams that are crisp and have a fantastic cinnamon taste and the Salty Road Salty Peanut salt water taffy that has a nice peanut flavor (even though I don't like peanuts much) and is a bit sticky. The shapes of the Skeeter cookies are adorable squirrels! I've tried YumEarth lollipops before and they're nice enough. Lately I haven't been into lollipops though.
I handed off the Love With Food Kettle Sweet Peanuts to Panda since he'll enjoy nuts far more than me. I will try one when he eats them but I'd never buy nuts. He also got the 180 Degrees Nutty Rice Bites with Blueberries because of the nuts and health bar-like snacks these are. Also snacks that I'm not into, but will be great for him as an afternoon snack or even breakfast item. I've put the Smooze Fruit Ice in the freezer to enjoy later. Pineapple and coconut are not flavors I've tried together before, so it'll be interesting which flavor stands out more.
Finally the Covered Bridge Montreal Steak Spice Seasoning Chips and Back to Nature Crispy Cheddar Crackers have made it into my work bag for snacking on this week. I'm looking forward to trying both and I hope they don't disappoint! I've never tried chips with such a unique flavor so that will be exciting and we'll see if it's too strong for me. Meanwhile, the cheddar crackers should be good since that's a snack I've had a variety of and generally enjoy.
Taste-wise I think this box is very promising. I'd eat more of the items if it weren't for my aversion to nuts and bars. I'm all about sweet snacks or crackers/chips. What do you think of this box? Which item would you like to try most?
[This post contains affiliate links. Signing up through them helps support my subscription and I'd be ever so grateful. 🙂 All opinions are my own and I received no compensation for this review. I just purchased this box at the special offer price and wanted to share what I got!]