So I kept Escape Monthly because I was super intrigued by Nashville. Coincidentally, Panda and I were planning a trip there this weekend. I was hoping the box would arrive in time so I could bring the guide book and look out for more of any treats I particularly liked from the box. It did end up getting delivered just in time! Buuut due to the weather conditions, we decided to postpone our trip for another time. There just aren't many places to go for a short vacation when it's snowing so much. Luckily, that means I get more time to prepare when we do decide to go.
Escape Monthly is just under $40 per box (with code for 20% off your subscription – see end of post) and comes with a variety of food, home, skincare items themed around a city/region. Each box comes with a guide for that area. Boxes are sent monthly with no option to skip. They offer a referral commission program.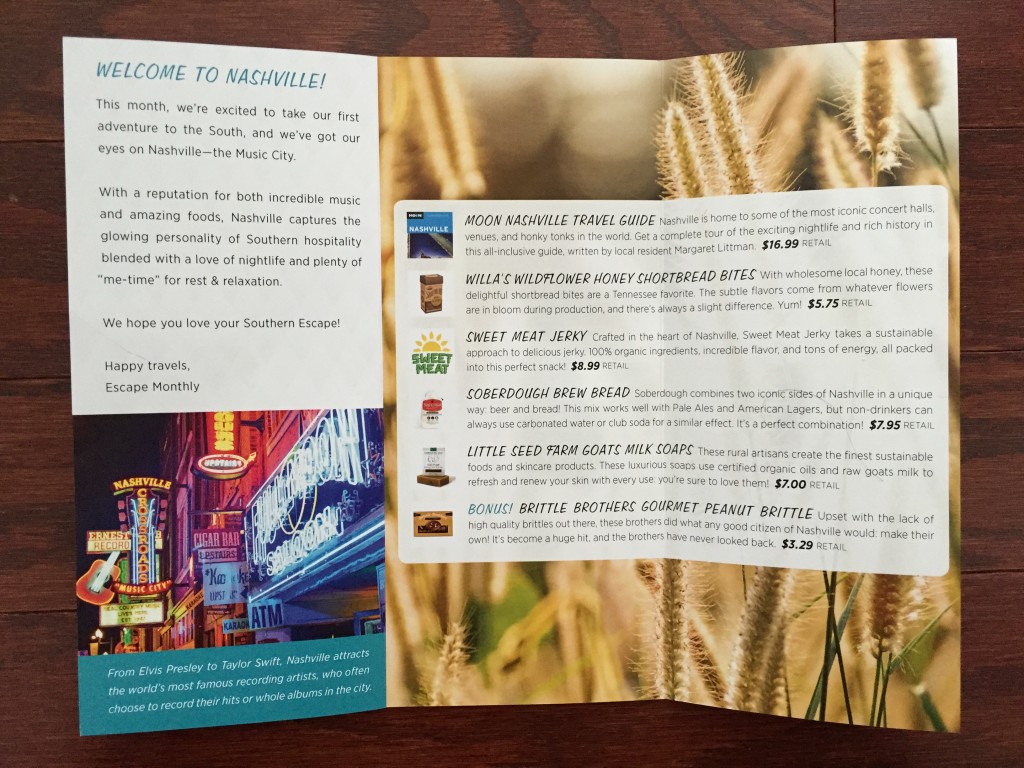 (click to enlarge and read full messaging)
So the first thing I thought was, only five items outside of the guide book?! That was disappointing. So I scoured them for something that perhaps was a super high value item. Didn't find that. For the price, I felt like they could have included at least one more thing. Just looking at what was included without thinking about value, I certainly did enjoy what they sent.
Here's what came in the box:
Moon Handbooks guide to Nashville – As I mentioned, the timing of this would have been perfect had we gone ahead with the trip this weekend. We can use this to help plan the trip when it actually happens.
Willa's Wildflower Honey Shortbread – Oh my word these are delicious. If I didn't stop myself, they'd be long gone. Instead I have maybe a third left and I probably won't resist much longer. These are lightly sweet without being too much and a wonderful buttery, slightly crumbly texture. The bite sizes are just perfect too!
Little Seed Farm Farmstead Milk Soap Rosemary Mint Scrub Bar – This is a super soft bar of soap that I accidentally nicked with my nail. It smells so relaxing and is such a great blend of scents. It makes me think of Chivas, a company that also uses goat milk. I visited their farm in SoCal way back when and it was my first time seeing Square being used. I'll add this to my arsenal of awesome soaps to use.
Brittle Brothers Peanut Brittle – I've had both their peanut brittle and their cashew brittle come in Treatsie boxes before! I definitely prefer the peanut one, which is strange since I am generally not into peanuts. But gosh, there's something about their brittle that lets the peanuts stand out in a way that I am totally happy with. I've already eaten half of this!
Sweet Meat Beef Jerky – Oh gosh, I probably would have gobbled up another flavor, but I don't like mango and I prefer my jerky sweet or salty, not spicy. Still, I did try a piece and it was an interesting burn with a hint of sweetness to mellow it out. I can definitely see people liking these flavors enjoying this jerky.
Soberdough Brew Bread Mix in Roasted Garlic – So I first saw this whole beer thing and I was like, is that the scent emanating from the box? But it's just the dough and you can use beer or just carbonated water to make it (whew!). I've never made bread before, so this should be fun. Turns out the flavor I got is roasted garlic, so the smell must have been garlic. I'm pretty excited to try it!
I feel like I got a great intro to some of the snacks to be found in Nashville. I would have loved to have gotten some sort of trinket or tool as well. I'm pleased with the products but wish that either there were more or that their value was a bit higher. Which items in this Nashville Escape Monthly box do you want to try? If you want to sign up, try one of these codes (not sure which ones are still active): AUSTRALIA or MYESCAPE for 20% off the lifetime of your subscription or GIFTESCAPE for 25% off.
It seems like the new thing is to promote the chance to win a $1000 towards a trip, which they offer every month. It's a FB photo contest and I have yet to enter, so maybe I should. I checked their Facebook page and found that next month it's going to be Australia – who could resist that? So I'll keep my subscription alive. Well played, Escape Monthly.
[This post contains affiliate links. Signing up through them helps support my subscription and I'd be ever so grateful. 🙂 All opinions are my own and I received no compensation for this review. I just purchased this box and wanted to share what I got!]