I've been meaning to put together my June favorites for quite some time, but I kept putting it off because I wanted to try creating a cool professional-looking collage with Polyvore. Alas, many of the items didn't come with pictures or had ones I didn't like, so I decided to just make my own collage with Picasa. I can always try again next month, right? So anyway, here are some of the things that I really loved using/doing throughout the month of June.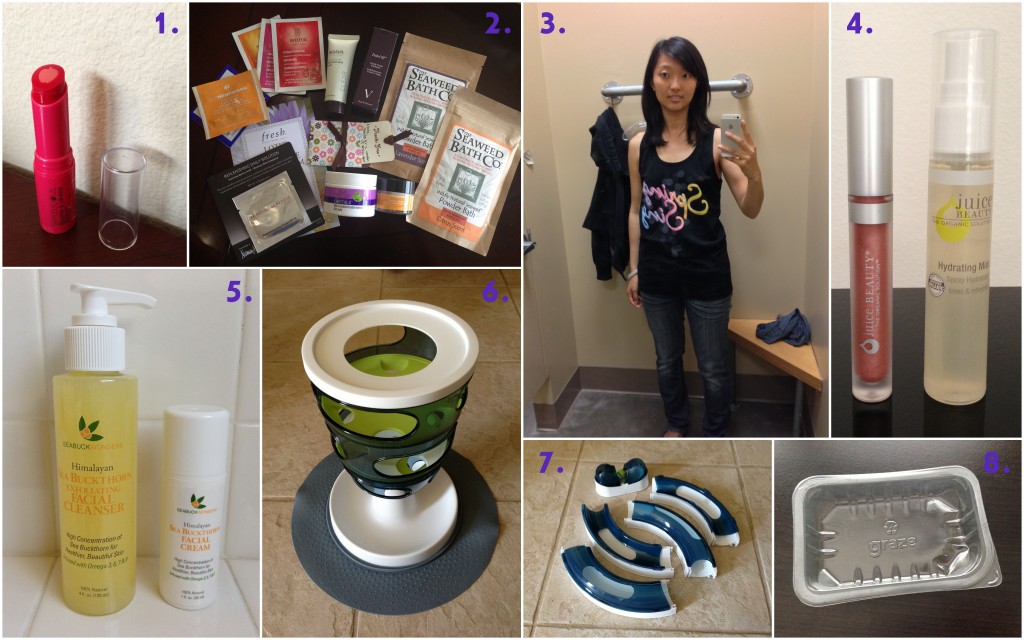 1. NYC New York Color Glossy Lip Balm – This came in my Influenster Spring VoxBox and I've been using it frequently! I love the light apple scent, the slanted design, and the cute apple design creating a two-toned lip balm. It's my go-to lip product now and I'll definitely look out for another one when I finish this one. I'll probably go for a slightly more subtle color though, since every time I put this on, Panda can tell and I don't want it to be that obvious!
2. swaps/trades – My newest addiction, thanks to Ipsy, is trading or swapping products. It all started when I decided to subscribe to Ipsy, but found that they sent me my least favorite color nail polish. In the hopes of trading it for the purple one I so desired, I began to explore trade forums and groups. I also had a ton of things from other subscription boxes as well as items I've accumulated that I didn't plan on using, so I decided to create a trade list. Now I've done over a dozen swaps and I'm loving all the products I get to try!
3. Spring Sing tank top – When I heard that there was going to be Spring Sing apparel, I got pretty excited. I'm a sucker for anything branded with UCLA-related stuff (<3 my alma mater!) and I didn't have a Spring Sing item. Then I saw it and fell in love even more! I love the design and that it's a tank top. It didn't look so great on the racks, but gosh once you put it on it's perfect! I just had to get it when I was at UCLA for Alumni Day and I have been wearing it all the time. It's exactly what I needed for lounging around on the hot summer days. I hope they keep making more designs each year so I can start up a collection. 😉
4. Juice Beauty lip gloss & hydrating mist – I believe it was through subscription box bloggers that I first learned about Juice Beauty. Something about the brand caught my eye and they quickly made it on to my wishlist. When I found out that Juice Beauty lip gloss was being offered in the May Ipsy bag, I really hoped I would get it! Unfortunately that didn't happen, but I did manage to get it in a trade. It smells wonderful and goes on well. It's not too gooey and just the right amount of glossy. Then there's the hydrating mist, which I thought would be nice to have whenever my skin needed a little freshening boost. There's something very relaxing about spraying yourself (particularly your face) with a gentle, soothing mist.
5. SeabuckWonders facial cleanser & cream – I won these from a blogger's giveaway and I'm really glad I got to try them! I love a nice scrub and you need so little of this one to cleanse your face that this will last me a long time. I'm also fascinated by design and the spout of the facial cream is so cool! I love the way it pumps out the cream and you barely need to press it to get plenty for your entire face. I was already obsessed with sea buckthorn products and this has just fueled the interest.
6. & 7. Cat It Design Senses feeding maze & play circuit – Once I got my Amazon gift card for participating in a focus group, I immediately ordered these two cat toys for my furries. The feeding maze is fun because it makes your cat work for their dry food and you can change the difficulty to help control portions. Unfortunately it seems that their overall laziness is not enough to overcome their hunger so they stopped using it after a few days. The play circuit can be assembled into a circle or other squiggly shapes and Missy has really enjoyed playing with it. It's nice for her to have something to be active with indoors so hopefully she doesn't go out as much.
8. reusing Graze containers – For a long time, I've needed something I could place tea bags on (or in) in between steeps. Once I started getting Graze boxes, I found that they made the perfect little container! I could place my tea bag there without worrying about it staining something, drink my cup of tea, then reuse the bag for more steeps! It was just the right size to hold the tea bag without being too large. Then I started to use some of them for my solid shampoo and conditioner bars, as well as soaps. Once my bars start breaking into little pieces, I keep them all in a Graze container so they don't go to waste. I love it!
So those are some of the things I've enjoyed most in June. Stay tuned for a new July list once the month is over! Have you tried any of my favorites too? What would your June list consist of?