I think this box came a lot earlier in the month than I'm used to. Either that or the month has been going by super quickly. I haven't had a chance to try most items yet, since quite a few involve the kitchen and I'm great at procrastinating there. 😛
Escape Monthly is just under $40 per box (with code for 20% off your subscription – see end of post) and comes with a variety of food, home, skincare items themed around a city/region. Each box comes with a guide for that area. Boxes are sent monthly with no option to skip. They offer a referral commission program.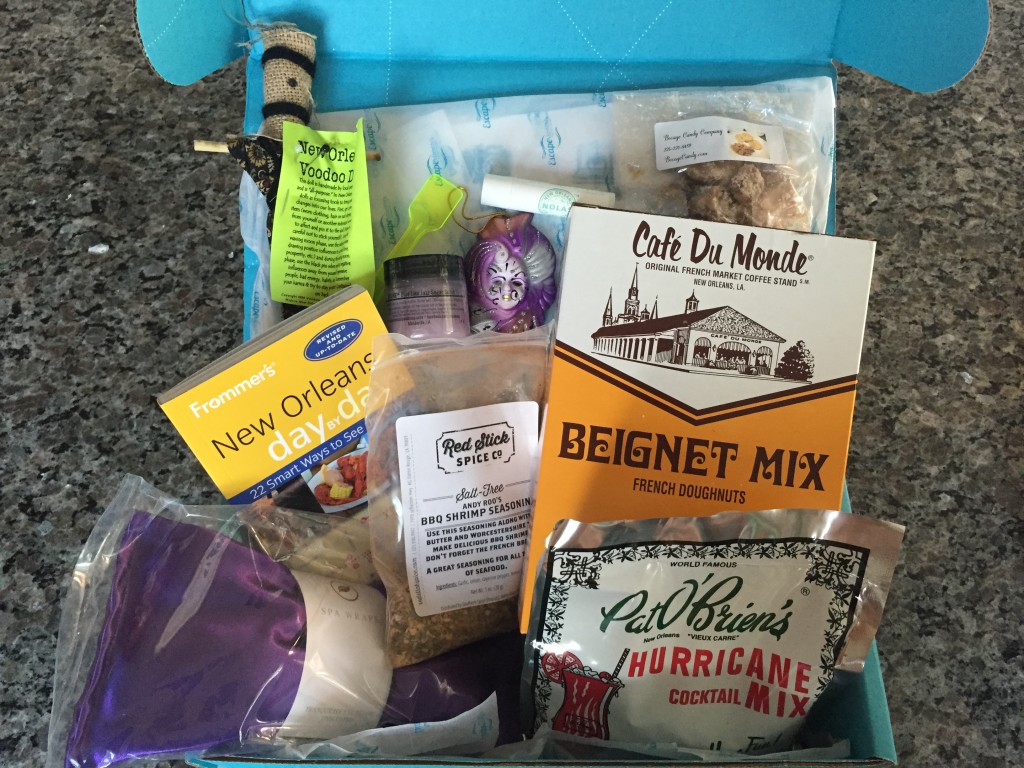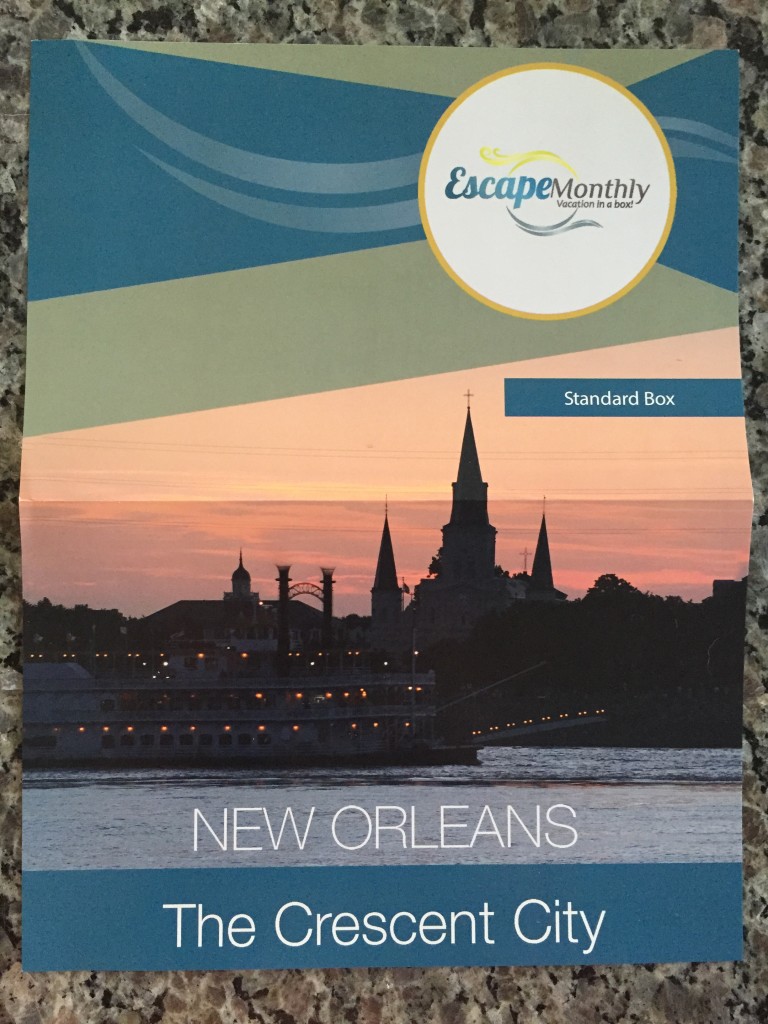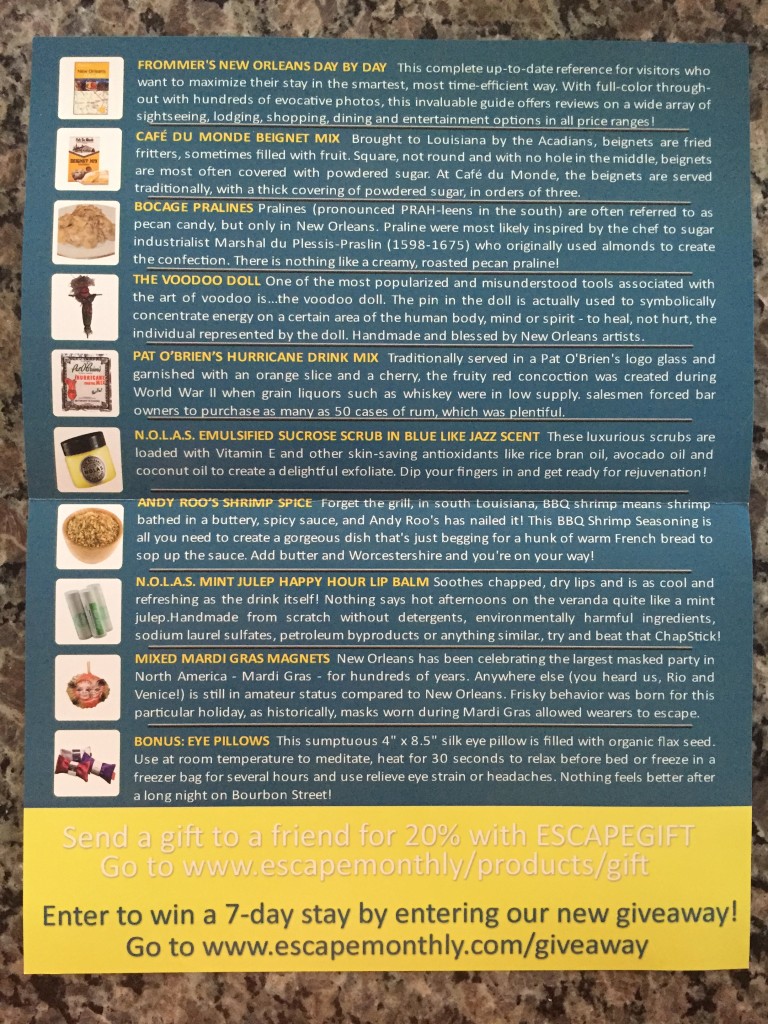 (click to enlarge and read full messaging)
This felt eclectic and fun, with quite a mix of products. I love the purple, which is the best color!! I'm not sure what the random little spoon is for – maybe it goes with the seasoning?
Here's what came in the box:
Frommer's New Orleans day by day guide – This is new and I don't think I've gotten one in an EM box before. I'm curious to see how different the style is and what I'll learn. Panda is so intrigued by New Orleans and I'm hoping this guide will show us awesome ways to enjoy the city without partaking in alcohol and parties. It's funny since what they're known for is not our scene, but he really wants to go.
New Orleans voodoo doll – I'm glad I read about this, because I had those crazy media portrayals in my head and I thought, "Why would I want to use one of these? I don't want to harm anyone." Just goes to show how ignorant I was. I liked reading about how to use it to bring healing and goodness to someone's life. I think it's important to set intentions and visualize your goals, so a voodoo doll can be useful for that. I might not believe in the superstition of it, but it's a good exercise to get me thinking about what positivity I want or what negativity I don't want.
NOLAS Blue Like Jazz Sugar Scrub – I'm a little confused if this is a lip scrub or general skin scrub. At first I thought lip scrub because I'd just gotten some from another box and my mind was on that track, plus their logo says "lip and soap" on it! But then after reading the instructions, there's no indication that it's for the lips. I guess I'll just use it like a normal scrub then.
Mardi Gras magnet – It must be serendipity that I got a magnet in my favorite color. I love how it looks and am more than happy to add it to the other on my fridge. This reminds me a lot of Venice, so I think I'll see similarities when I go down to New Orleans. Since there's a string on it, this would also make a good ornament for a future tree.
NOLAS Mint Julep lip balm – I've got a huge stash of lip products I'm working through. This will be added to my collection and pulled out when I next need a simple lip balm that will be hydrating and no fuss. I like to have a plain(ish) lip balm, a tinted lip balm or lip gloss, and a bright lip color in rotation at any given point.
Bocage Candy Company pralines – I tried a piece of this and couldn't really taste anything. It was just sweetness that sort of melted in my mouth. I was surprised at how quickly it fell into a powdery consistency when I was expecting something more crunchy. Maybe I'm just not used to how these are supposed to be.
Cafe du Monde beignet mix – Oh I love beignets! When I was reading the box, I thought it said "Makes 4 French doughnuts" and I was surprised and disappointed at that. But then I reread it and realized it was "Makes 4 dozen French doughnuts." Thank goodness! That's plenty and more. I do wish they'd include a bit of powdered sugar, since that's not something that I have at home.
Pat O'Brien's Hurricane cocktail mix – This is the one item I'll need to give away since neither Panda nor I drink. Perhaps if I take it to the office my coworkers will make use of it in subsequent happy hours in the kitchen. I'm sure someone would like to try making cocktails!
Red Stick Spice Co BBQ Shrimp Seasoning – As soon as I opened the box, I got a whiff of this seasoning. I can totally imagine getting seafood with this type of flavor and I really need to get around to cooking with it. I love shrimp and I'm looking forward to how this seasoning will make them taste.
Spa Wraps eye pillow – I would have thought something like the magnet would be bonus item, but this is awesome! I enjoy spa treatments and tools for relaxation. I can use this to cool down my eyes and face after a long day, or to help shut out the world for a little bit.
The party vibe was all over this box and I'm glad a little bit of relaxation was in there too. I like the diversity of products and slightly higher quantity too. What products from the New Orleans Escape Monthly box would you want too? If you want to sign up, be sure to sign up for their newsletter to get a code for 20% off the lifetime of your subscription.
I haven't seen the next destination posted yet! I'm hoping for something abroad like Thailand or Hungary.
[This post contains affiliate links. Signing up through them helps support my subscription and I'd be ever so grateful. 🙂 All opinions are my own and I received no compensation for this review. I just purchased this box and wanted to share what I got!]