It's almost time to order the newest iPhone and I can hardly wait!! I've been waiting eagerly for a year, ever since hearing about the 5S and knowing that the 6 would only be better. Now we're getting close to that 12:01 PDT deadline. I'm going to bed and hope l wake up to my alarm. Should have slept two hours ago, oh well! I just need to get through one more intense day and I can crash.
[update] Well, I set an alarm for 2:40 EDT and then foolish lay there thinking I had time. I ended up falling asleep until about 3:27 and then scrambling to go order. First I tried the Apple Store app, but it said my product was unavailable. I suppressed panic as I tried the AT&T app (stuck on a landing page about how they'll be ready soon) and then pulled up the website. Things kept freezing, error messages cropped up a few times, and I started over half a dozen times. Ultimately the best path seemed to be logging in to my AT&T account and then clicking the prompt there to check my upgrade eligibility. The pages there looked a bit different, but I chose my space gray 64 GB iPhone 6 and was able to check out with no further glitches!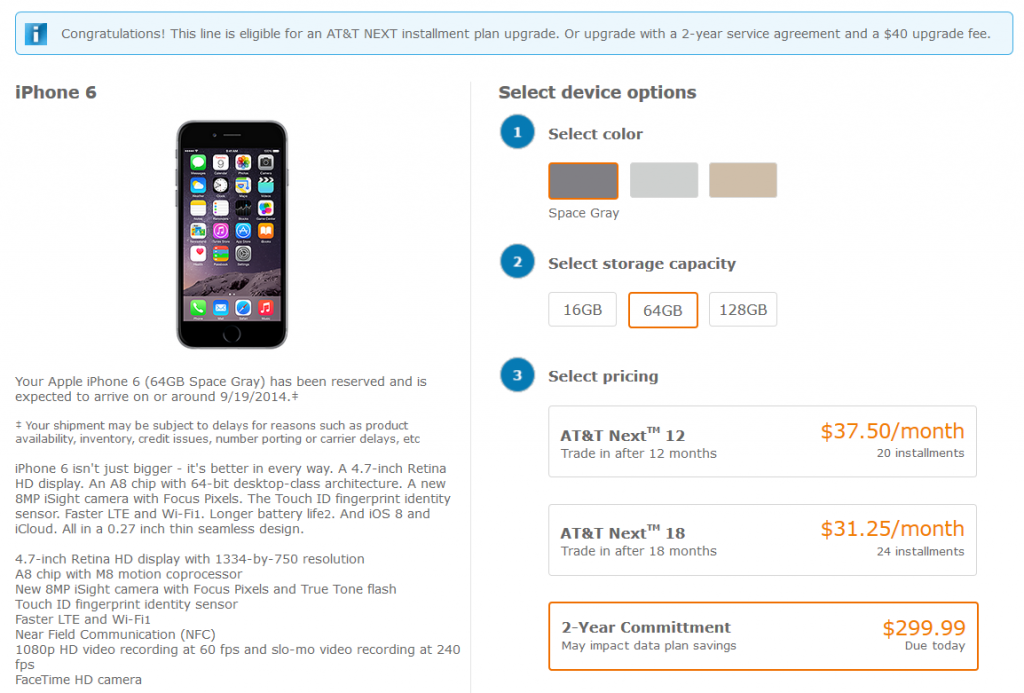 I have an order confirmation page, but I don't see an email confirmation yet and when I go back to my account, the line upgrade doesn't seem to register (so in theory I could accidentally double-order if I tried the process again). I'm paranoid that this isn't totally official and/or I won't get my shipment next Friday when they first go out. The confirmation page has a spot for the date and it's blank, though when ordering it specified the Sept 19th date. I guess we'll just have to see if I am fortunate enough to get it on schedule. I sure hope my order is early enough in the queue! Still, I'm not feeling confident enough to sleep just yet.