In modern China, you'll find an eclectic mix of old traditions and new lifestyles. Even as they build skyscraper after skyscraper, tucked in between those giant buildings are tiny little ones from ancient times. And even as buildings get built and land gets cleared, you might notice many large bumps of dirt scattered around. Those are the graves of our ancestors, preserved through time as the world around it changes.
It's been 10 years since my paternal grandmother died, so our family arranged a get-together to honor her and pay our respects at her grave site. An assortment of cousins, aunts, and uncles came. Most are my grandma and grandpa's nieces and nephews (my dad's cousins) and their families. Our extended family branches out in ways I don't even know and can hardly keep track of, but all that matters is that everyone who came is family.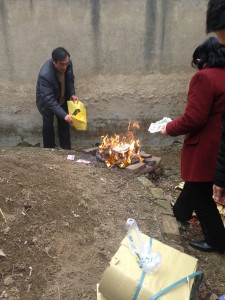 The day started off by meeting up at my grandpa's. Around 10:30, the male lineage of the family (my grandpa's sons and families plus his brother's families) went over to my great-grandparents' grave. Through the winding streets of the city, down an alleyway, and into a small area next to homes rising around it… there you'll find a little locked door that leads to a walled-off area just big enough for the large dirt mound that covers my dad's grandparents. A loud burst of firecrackers set things off to announce our arrival. My uncle set up the fire and we put in stack after stack of yellow paper representing money. Ashes rose up from the flames, gently carried away by the breeze as he spoke to our ancestors, telling them who was there and that we would be visiting my grandmother afterwards. We even offered them some (fake) US dollars, burning them to send them up to the heavens for my great-grandparents to use. My uncle kow towed on behalf of all of us and we let the fire die. This was my first time visiting this grave site and I'm glad it's been preserved despite the growth around us.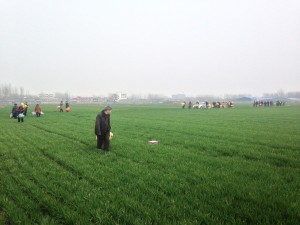 We then went out to my grandmother's grave and the rest of the family met us there. We had 12 cars in total, carrying around 50 people. For each who could make it, there were many more who couldn't, but it was a really good showing. My grandma is buried out in the middle of wheat fields, in a spot chosen for good feng shui. I'm not sure exactly how they know that that particular mound is hers, but the family knows.