Growing up an only child, constantly on the move, and often home alone, I'd say I can be a hermit of sorts.  At home I'm used to holing up in my room, for the first half of my life reading books and for the second half spending time on the internet.  I'll spend the entire day there, taking breaks only to go to the bathroom or go grab some more food from the pantry.  It's a lifestyle that I think a lot of people don't understand, either because there are too many people in their households or their parents didn't offer them as much space and independence.  But for me, what is normal is to do my own thing.
My mom will call me for dinner when it's ready and I'll make my way downstairs when I'm ready, usually after my parents have finished eating their meal.  We're not ones for small talk, so they'll continue on with their lives, my dad sometimes flipping on the news and my mom burying herself back in her study material (she's always teaching herself something new or playing with AutoCAD).  We have a very nontraditional family unit and I think outsiders would often see our relationship as cold and distanced.  I don't know how to convince them otherwise (nor do I want or need to), but that's just the way it is.
I get all the support I need both emotionally and financially.  When I need help or advice on something, I can go ask and though we'll often disagree, there's much to be learned from that.  As for money, I hardly spent any as a child, never really asking for toys or new clothes.  All I wanted was to be driven to the library on a weekly basis so I could drag a new stack of books home.  At one point, I wanted video games, but they refused and I didn't pursue it very frequently so eventually the desire faded.  In my senior year of high school, I started to drive and since then my habits have changed quite drastically, where I am much more in charge of where I go, what I do, and what I buy.  I still try not to spend much, but I do splurge here and there and my parents are always there to help me pad my bank account if I need it.
Panda and I have talked about the type of family we would want and I think it will be much more cohesive.  I image going to the park on a weekend or wandering around some new part of LA.  It's not that I don't want to spend time with my family; it's just that when everyone is busy with their own things, hanging out for no good reason seems a waste of time.  So yeah, I'd like to have a lot of time to do things together, but I hope that when it comes time for the kids to leave home and go to college, they won't feel tied down.  I don't want them to feel like they need to come back on weekends all the time.  I chose to go to a college near home not because of the proximity but because of the university itself.  I want that to be the case for my children too.  There comes a time when you need to leave the nest and start making a life for yourself and college is definitely a major transitional period where that starts to happen.
Lately I've found that my immense independence and solitude is not "normal" and I think it can be seen as being aloof.  To me, it's leaving people alone and being left alone to do what we need to do.  Unless there's actually something to talk about, trying to find things to discuss feels like a waste of time to me.  So I thought I was doing everyone a favor by staying out of the way.  Well, when I was told that that's not what they wanted, I started to greet in a less timid manner, began coming up with follow-up comments or questions, and would occasionally make my way to the living room and watch some TV together (even though I have no interest in TV).  All the while, I wracked my brain for things to talk about.
At the same time, I was terrified.  I don't know how to approach people who I perceive to be in a position of authority (teachers, bosses, parents) and even when they are extremely open and inviting, I proceed with caution.  I think much of this fear held me back and created a lot of self-doubt in what I was doing and what I could do.  I knew I needed to somehow be more talkative and interactive, but I couldn't think of interesting topics.  Perhaps it was because I felt that everything had to be so meaningful and profound.  It seems that small talk isn't like that though – so much of it is really just mundane stuff, isn't it?  And everything is quite repetitive – what you ate, what you did, how the weather is – and really doesn't change all that much.
I also stopped myself from trying to talk much when the TV was on or trying to enter a room if the door was closed.  Those are signals of "leave me be" in my world, so I respected that.  Yet, other than that time, there were not really other windows of opportunity.  It's either nobody's there, they're in the room, or they're watching TV.  Well, it seems that there has been discontent because of the lack of interaction, so I decided to give it a shot.  I sat there and tried to make conversation for 45 minutes, with many pauses and much of the time spent looking at the tennis match on TV.  A couple times, it was suggested that I go rest or that I must have other things to do, so I should go in the room and go on with it.  I didn't know if those were just polite refusals as a gesture that it's ok if I don't stay or if they were a subtle dismissal and an attempt to get me to retreat to the room.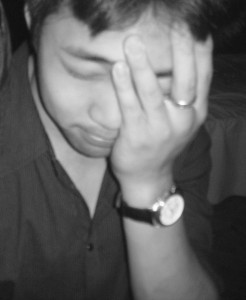 Sigh, everything is so complicated when it comes to relationships.  I've got no experience in this realm and it is kicking me in the butt.  Even when I ask what is going on and what thoughts and feelings there are, I get no answer.  It's such an Asian thing to do and perhaps I am too Western in my behavior.  To me, it's about sharing feelings and talking it through.  But I guess it's not so easy.  There's so much that is taboo in the Chinese culture.  I wonder if this is the case,where even asking will not help yield an answer.  It sure seems so because so far it hasn't.  I know I have a lot to fix but I don't know what exactly and, more importantly, I don't know how.  I feel utterly powerless and useless.  Boy do I have a headache.
« Prev:Public transport etiquette
Fire in the soul:Next »