While in Paris, Panda and I were looking for a popular and special place to have dinner. With much searching, he came across Le Soufflé – offering a completely soufflé experience. They had a three-course meal that was all soufflés!
We eagerly walked there after a long day of exploring and stepped inside to a cozy little entry. A gentleman approached and asked if we had a reservation. We did not, so we wondered what the wait would be.
"I'm sorry, we are booked for the rest of the evening," he told us.
"When's the next time you have an opening?" we inquired.
"All reservations for the night are taken," he explained. "You can make a reservation for tomorrow lunch."
Disappointed, we stepped out and considered our options for our meal. It was past 9 and many restaurants were closing within the hour. We returned to the hotel to get online and search for somewhere else with soufflés.
With little success, we went to ask the concierge. He immediately recommended the restaurant we had been turned away from. We started telling him how they were booked, but he was already dialing their number. At first it seemed like they might give us a reservation, but then he started shaking his head. Fully booked. :-/
So he began calling a variety of other options asking if they at least served dessert soufflé. Finally, one place said yes – but it was not walking distance and we did not want to take a taxi. So as things looked more and more dismal, I was about ready to just eat at the hotel. Then, out of the blue, the concierge tells us we can go to Le Soufflé!
What?! We were confused. Apparently he had called them two more times and they had a cancellation, so we got in! We quickly rushed over the half mile or so to the restaurant and arrived aright round 10.
At first we planned on getting a set each, but upon seeing the size of the soufflés, we decided to share a single three-course meal. It was 37€ so we were happy to save on the cost too.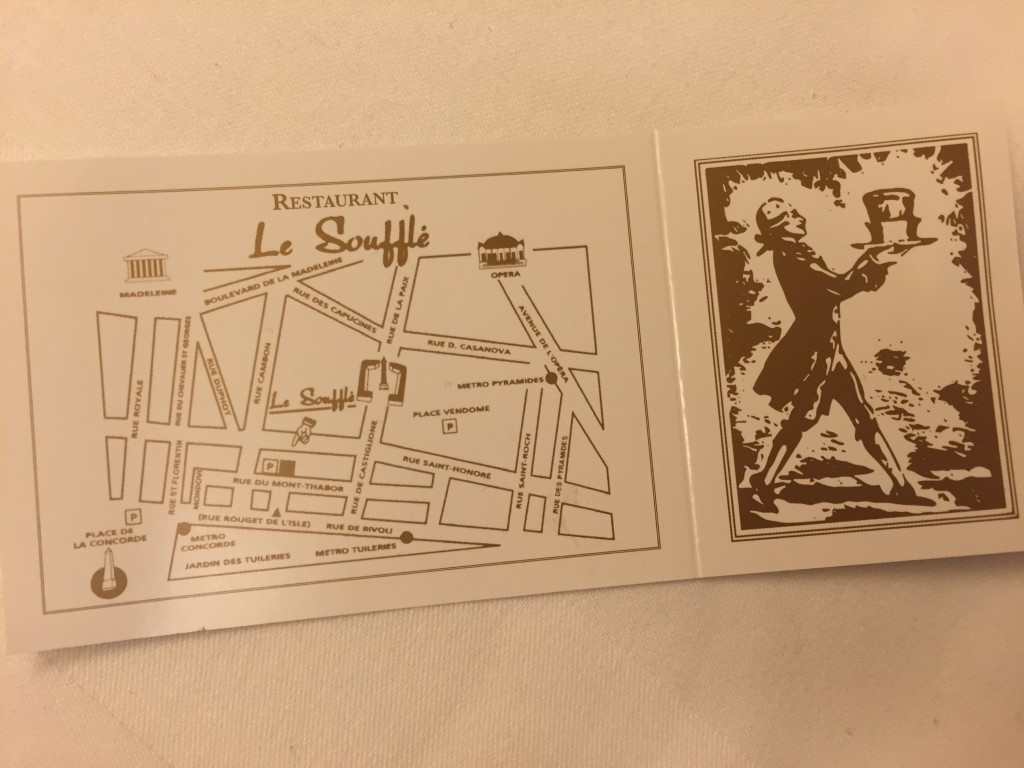 This was a fun dining experience and the meal felt very satisfying, even with such light food. I think ait's  great thing to try for anyone new to the city. 🙂
« Prev:The Italian way of life
European goodies:Next »