My very first Influenster VoxBox was this lovely AVEENO Positively Radiant Intensive Night Cream, which I'm loving!
Just a quick background: Influenster is a site where you share your opinions and get to help influence brands. They send out VoxBoxes, which are filled with FREE products that they send out based on the brands' target audience. We, as the members of Influenster, get to try out products and give feedback to the brands. If you want more information, their About page covers it pretty well. Want to join? Just let me know and I'll invite you! 🙂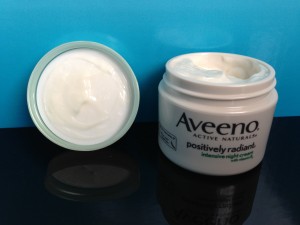 Ok, so back to the product that has changed my nighttime routine and improved how my skin feels when I wake up. To be honest, when I first got the complimentary product to try, I wasn't sure I'd be able to notice any results. A night cream's just something you put on your face so it doesn't dry, right? Well, happily, I can report that I've felt so great that I've used it every night (which is no small feat for me, since I usually forget to use skincare products).
Let's review some facts about AVEENO Positively Radiant Intensive Night Cream:
"The AVEENO® POSITIVELY RADIANT® Intensive Night Cream, formulated with ACTIVE NATURALS® Total Soy Complex and vitamin B3, helps to reduce the appearance of discoloration, uneven tone and blotchiness, revealing healthier-looking skin."
~Contains a proven concentration of ACTIVE NATURALS® Total Soy Complex boosted with vitamin B3 to help visibly diminish the appearance of dullness, blotchiness and brown spots
~Oil-free, hydrating formula penetrates deep within skin's surface while you sleep revealing an even, more radiant complexion
~In a clinical study, women saw improvement in tone and discoloration
~Gentle enough for everyday use
AVEENO Positively Radiant Intensive Night Cream addresses the 5 factors of radiance (tone, dullness, brown spots, texture, blotchiness) to brighten tired and dull-looking skin.
Upon opening the night cream, I got a whiff of a really nice, subtle scent. It's a little bit sweet and very fresh, which I love. The cream is a nice consistency that's rich and thick but not clumpy. It smooths on really well and leaves your skin feeling softer and hydrated. When I apply it right after washing my face, I get a little warming, tingling sensation that makes me feel like the product is really working on my skin. Maybe that's the Active Naturals Total Soy Complex doing its thing!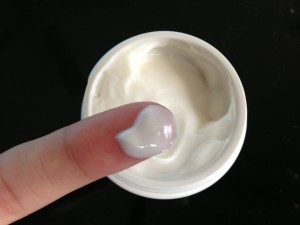 I'm really fascinated by this product because it's the first time I've seen a skincare product with soy as an active ingredient. I've heard of the health benefits from consuming soy and soy products, but I hadn't ever considered it for skincare. In my search to learn more about it, I found an article from LiveStrong detailing how soy is great for combination skin (hey that's me!) and evening out skin tone. There's even a portion about reversing skin damage, which touches on blotchiness and discoloration. Totally lines up with what the AVEENO Positively Radiant Intensive Night Cream is meant to do for us!
The morning after my first night using my new night cream, I was surprised at how refreshed my skin felt! Usually my face feels grimy or oily in the morning, but the night cream worked some magic to prevent that from happening. Since it's oil-free, it is great for oily skin and not only does it not make your skin feel more greasy, it somehow manages to reduce the oil your face produces. Amazing! Overall I do feel like my skin has improved and my appearance is more radiant, though I suck at pinpointing exactly what improved. I'd love to say my skin tone and texture improved, but truthfully, I don't even know what that means. All I can say is that my skin feels much better in the mornings now and that's all that matters. 😛 Also, I love how the tub will last me a really long time too – I've used it every night and barely made a dent!
If you want to get in on the conversation about AVEENO Positively Radiant Intensive Night Cream, just jump on your favorite social media channel and use #RadiantWithAVEENO, or search for it to see what others are saying.
« Prev:365great Day 43: books
365great Day 44: pickles:Next »