Just as I was getting antsy for another box, I got the Feb Escape Monthly box yesterday. Lovely way to end the week!
Escape Monthly is just under $40 per box (with code for 20% off your subscription – see end of post) and comes with a variety of food, home, skincare items themed around a city. Each box comes with a Moon Handbooks guide for that region. Boxes are sent monthly with no option to skip. They offer a lovely recurring referral commission program.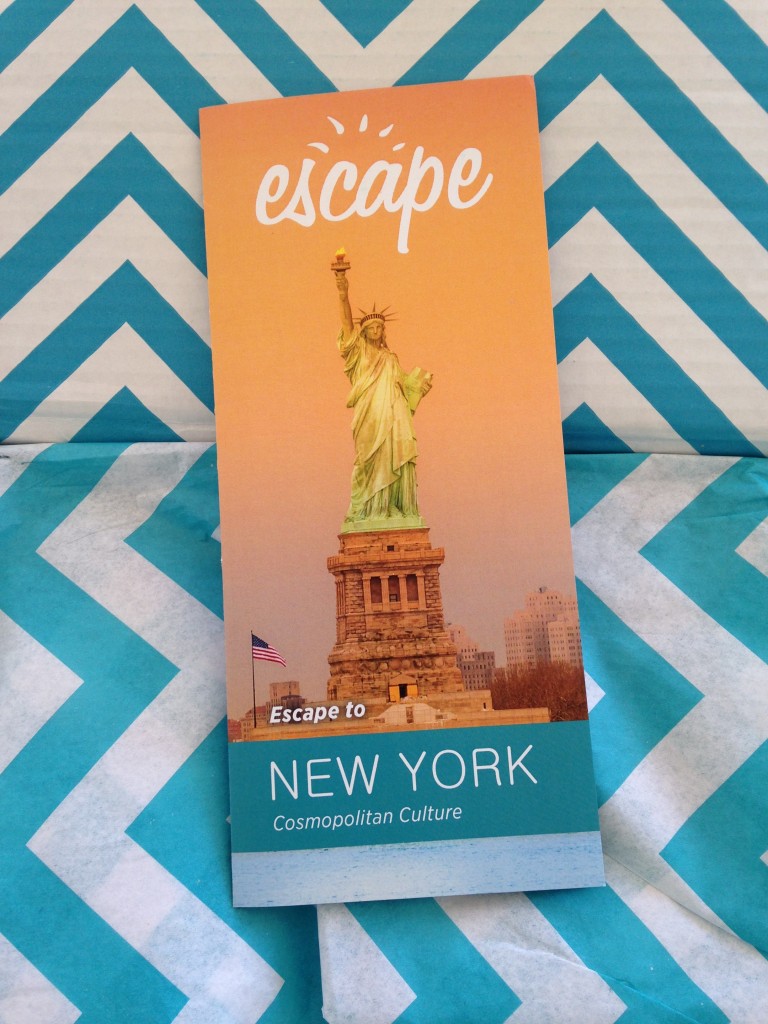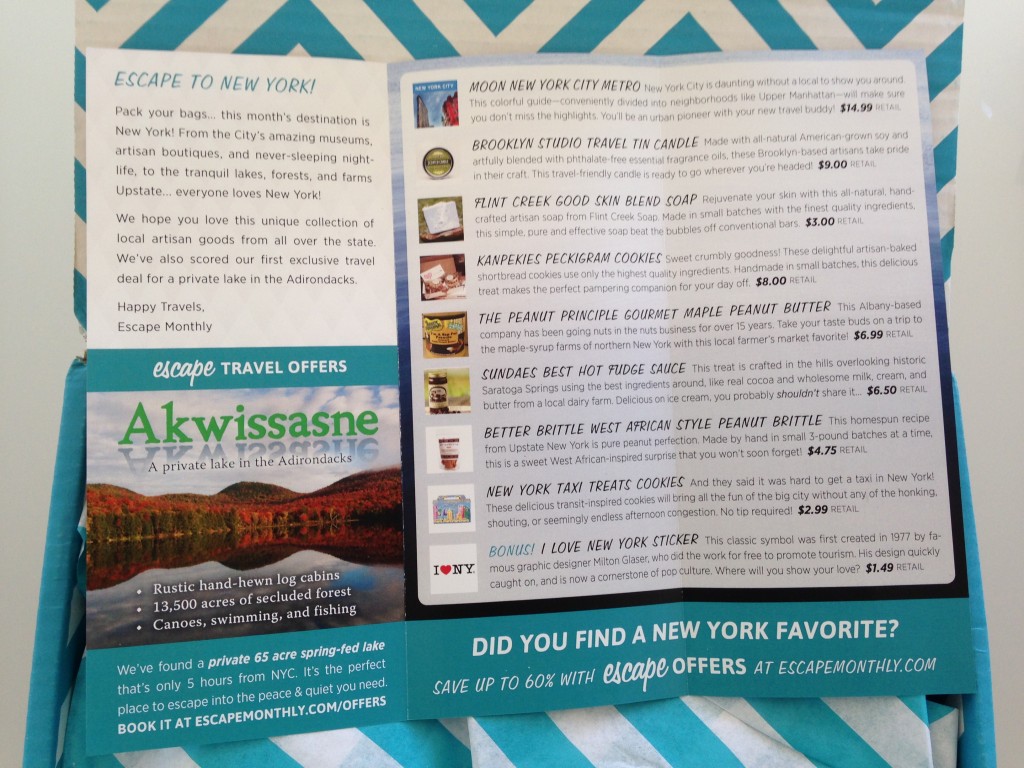 (click to enlarge and read full messaging)
I used to live within an hour of the city, but I would have no clue what to include in this box. I think it's appropriate that there is a greater focus on food items in this box, since everyone talks about the food you can find in NYC. As for the rest of the state, something apple-themed would have made sense, but I guess that didn't make the cut. Oh well!
Here's what came in the box:
Moon Handbooks guide to Metro New York City – This would have been handy when Panda and I went on our trip to New York last year. Luckily, we're close enough that we'll definitely be going back soon enough, so I'll keep this handy. There's so much to do in the city, I'm sure it will take many visits to experience and see all that we want to.
Better Brittle West African Style Peanut Brittle – Hmm, what does it mean by West African style? These little bars of brittle are inspired by something called "nkati cake" from Ghana and they're made upstate in Syracuse. They're vegan and all natural, with a strong nutty flavor. They're not overly sweet like many other brittles I've had and the pieces have a solid crunch to them. They're a simple blend of peanuts, evaporated cane juice, and salt so you know just what you're getting.
Sundaes Best Hot Fudge Sauce – I've never bought fudge sauce, so I'm excited to explore the options here! I'm going to have to try making hot chocolate with it, pouring it over ice cream, and even spicing up some other desserts with chocolatey goodness. I like having these kinds of products at home, which is really making this place feel at home. Whenever I want gooey chocolate on something, I'll have a jar handy now.
Flint Creek Soap in Good Skin Blend – These soaps are made in upstate New York and only contain natural ingredients. This particular soap sounds fantastic, with bentonite clay (great for clearing impurities) and essential oils that apparently tone and tighten pores. I'm going to have to try this in all my breakout problem areas! I love the smell that is super refreshing and minty. These soaps are made in small batches and are safe for any to use anywhere on their bodies!
kanpekies peckigram cookies in Cherry B Mine – These are perfectly themed for Escape Monthly, with an adorable box that looks like a postcard! They're made right in NYC and you can tell they're packaged with love and flair. Inside the box are two sets of two shortbread cookies. I got the cherry chocolate variety that looks like a chocolate chip cookie until you start opening it and find that the sticker on the bag was covering a sweet pink heart! The shortbread is just crumbly enough to fall apart in your mouth.
The Peanut Principle Gourmet Maple Peanut Butter – Maple peanut butter?! That's totally new to me. I could totally smell the maple in this product through the seal, but once I opened it the peanut butter took over. It's super creamy and has a slightly different taste, though if you didn't know it was maple I don't know if you'd notice. I don't normally eat peanut butter, but I'm sure Panda can make good use of this on toast.
Brooklyn Studio Travel Tin Candle in Green Tea Lemongrass – Ooooh I'm liking this candle tin. I enjoy green tea and lemongrass so this combination is lovely. It's a soy candle, which is fabulous, and it came in a nice little travel baggie! I wonder if people actually travel with candles though, since, um, aren't you not allowed to burn them in a hotel? I don't quite understand the concept of a travel candle, but I love it anyway.
New York Taxi Treats Cookies – More shortbread! Is that something New Yorkers are known for? Well, anyway it's a fun theme and seems like an excellent item to include in a kid's lunch pail. These cookies are light and crunchy, almost like a cracker. I can definitely taste the milk or vanilla influence giving it a sweetness.
I<3NY – This little sticker was the bonus item, a total classic. It's so simple yet powerful. I have no idea where I might put it, but at least I can say I was a New Yorker before.
I think this box was great in showcasing brands in New York state. Almost every single item was made there and most of them are actually from upstate, so there wasn't too heavy of a focus on NYC. What do you think of the New York Escape Monthly box? If you want to sign up, try one of these codes (not sure which ones are still active): IRELANDESCAPE or YOURESCAPE for 20% off the lifetime of your subscription or GIFTESCAPE for 25% off.
When I saw the theme for March I got SO excited! I looove Ireland and I hope to get something sheep-related.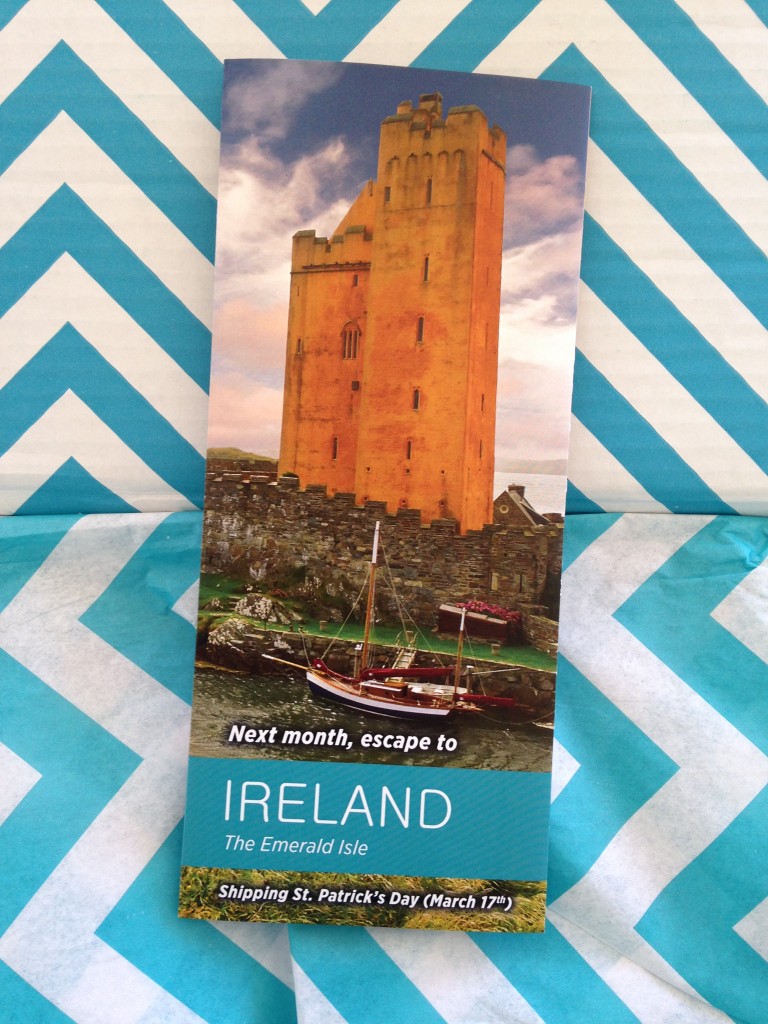 [This post contains affiliate links. Signing up through them helps support my subscription and I'd be ever so grateful. 🙂 All opinions are my own and I received no compensation for this review. I just purchased this box and wanted to share what I got!]
« Prev:365great Day 344: tree climbing
365great Day 345: green tea ice cream:Next »