Ok, it's like they're reading my mind (or maybe I'm just interested in too many places that it's hard to come across a theme I wouldn't be intrigued by). I mean, Australia?! Yes please! So while I've been meaning to cancel my subscription just to cut on costs, I haven't been able to pull the plug. I love it down under and I couldn't wait to see what they had in store.
Escape Monthly is just under $40 per box (with code for 20% off your subscription – see end of post) and comes with a variety of food, home, skincare items themed around a city/region. Each box comes with a guide for that area. Boxes are sent monthly with no option to skip. They offer a referral commission program.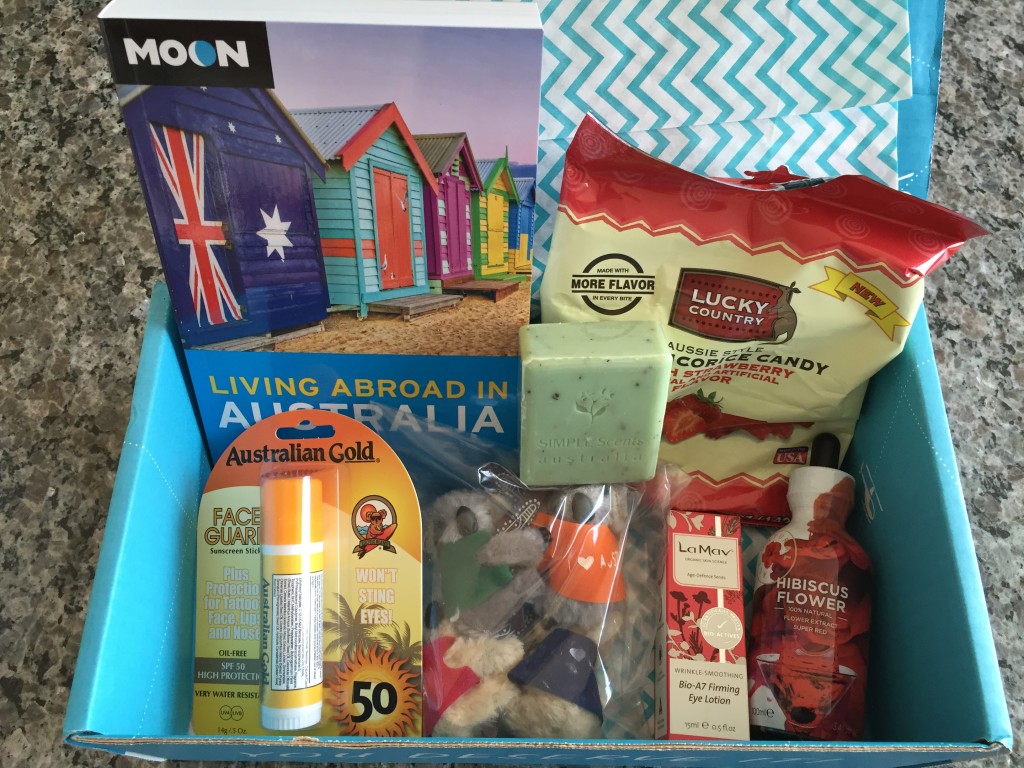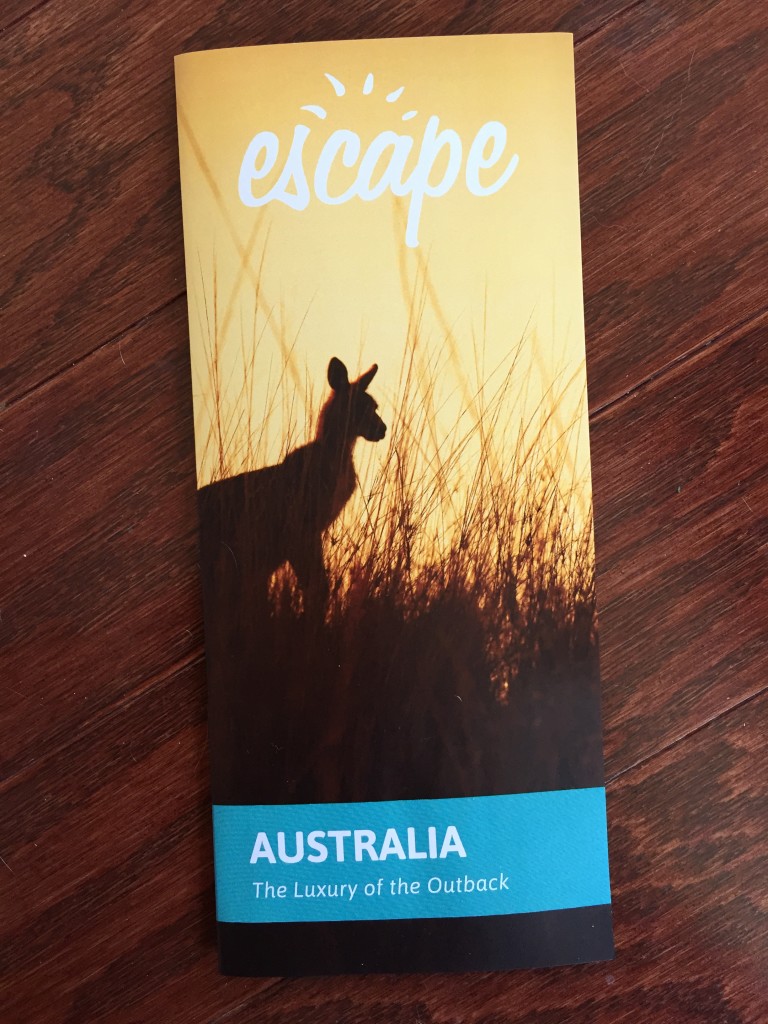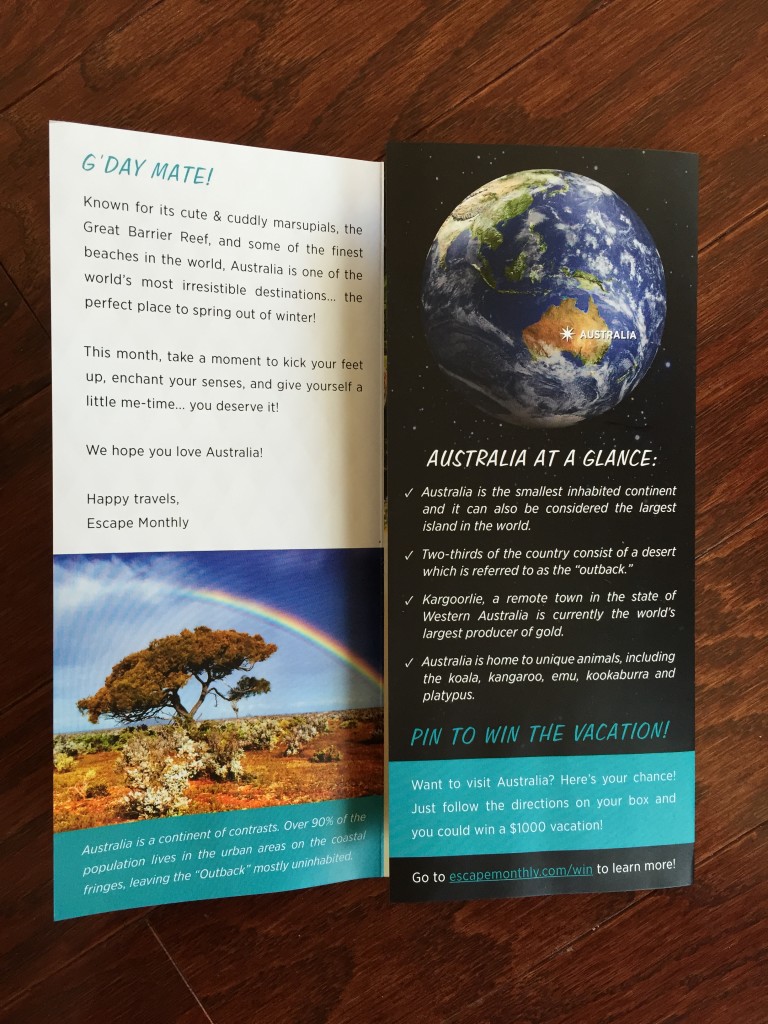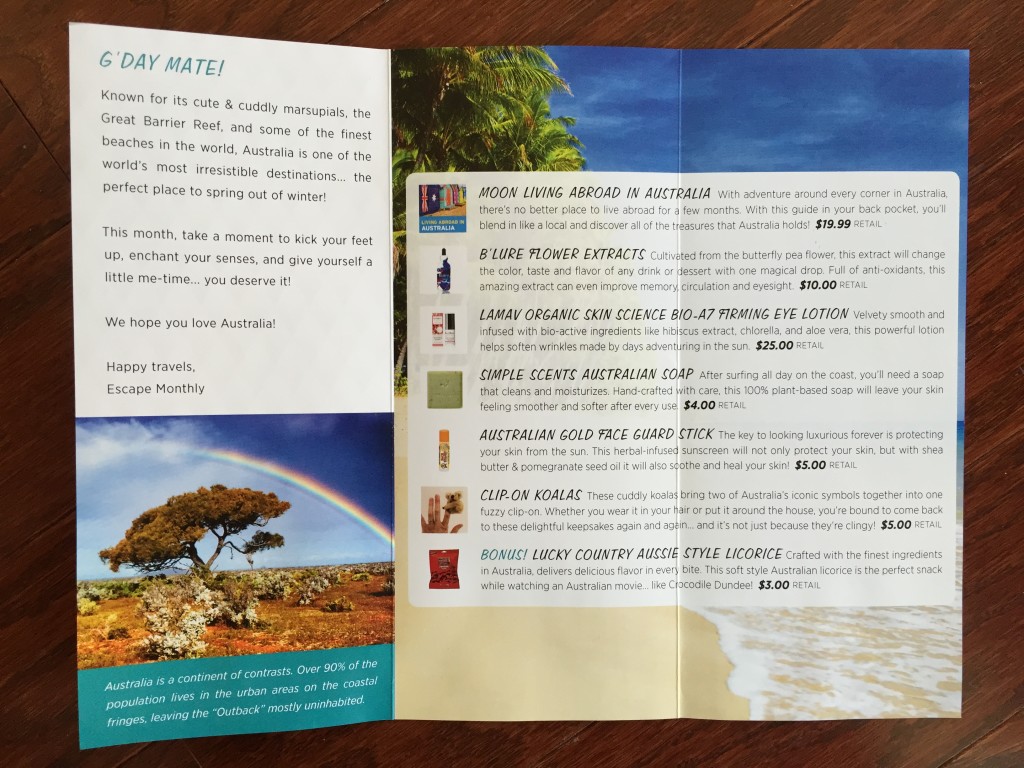 (click to enlarge and read full messaging)
I'm glad that what was included really felt like it was authentic from Australia. I haven't come across these brands, so I like being introduced to them.
Here's what came in the box:
Moon Handbooks guide to Living Abroad in Australia – I'm definitely going back to Australia again and hopefully can even live there for awhile, so I'll keep this handy for when that time comes. I've only explored Sydney and the Gold Coast previously; there's so much more to see!
Australian Gold Face Guard Sunscreen Stick – This is just so fitting! What a nice easy way to apply sunscreen to the face without looking like some pale monster. With so much sunshine in Australia, I'm sure this would be a staple need. Now that spring is coming, we'll be having lunch outside again and this will come in handy.
Simple Scents Australian soap in Eucalyptus – This is what I smelled as I opened the box and it kind of reminds me of Irish Spring soap. It's a very refreshing, clean sort of smell that would be great for anybody to use.
clip-on koalas – Oh yes, I've definitely gotten these myself before. Can you go to Australia without leaving with one of these clingy little guys? They're a fun little trinket to have and remind you of the real koalas that you can find there. I think they might also make a good cat toy…
Lucky Country Aussie Style Soft Licorice in Strawberry – Yum! I may not like black licorice, but I can appreciate strawberry and these were so soft and fresh that I wasn't even sure they are licorice! I really like these.
La Mav Bio-A7 Firming Eye Lotion – I don't exactly have wrinkles to test this on, but I can say it's very gentle on the sensitive eye area, and very velvety in texture. It feels nice and luxurious and I love that it's organic. This is the most high-value item, being an eye product and all.
B'Lure Hibiscus Flower Extract – I wish I'd gotten their original made from butterfly pea, because apparently it changes color from blue to purple to pink with more acidity! How cool is that? It's like a science experiment in your drink. My hibiscus one does appear more versatile though, with recommended uses including glazes or cream cheese. All the extracts are good for drinks and desserts as a natural sort of food dye. Pretty cool! I'm definitely trying making ice cubes with this, among other things.
I'm pretty pleased with this box, which definitely opened my eyes to some of what Australia has to offer. What products in this Australia Escape Monthly box do you want to have? If you want to sign up, try one of these codes (not sure which ones are still active): YOURESCAPE or MYESCAPE for 20% off the lifetime of your subscription or GIFTESCAPE for 25% off.
Next month is Japan, so of course I'm staying on board – who could resist that? I'll keep my Escape Monthly subscription as long as they continue to choose awesome destinations.
[This post contains affiliate links. Signing up through them helps support my subscription and I'd be ever so grateful. 🙂 All opinions are my own and I received no compensation for this review. I just purchased this box and wanted to share what I got!]
« Prev:Beauty Box 5 March 2015 review
Touching:Next »