Ok, so the March Escape Monthly box had no sheep, but I still loved it. It was very much food focused, which is perfect for me because I can always use more snacks. We eat far more than we use other products, so this helps prevent an overstock of items. I'm sure Panda will be happy about that. 😛
Escape Monthly is just under $40 per box (with code for 20% off your subscription – see end of post) and comes with a variety of food, home, skincare items themed around a city. Each box comes with a Moon Handbooks guide for that region. Boxes are sent monthly with no option to skip. They offer a lovely recurring referral commission program.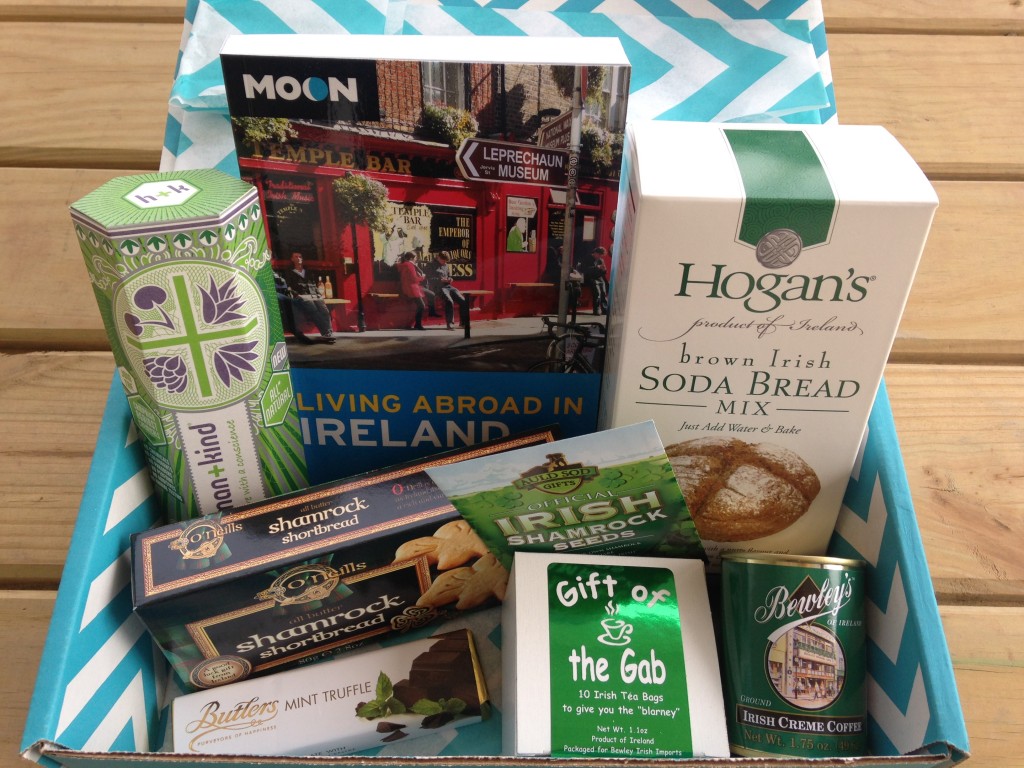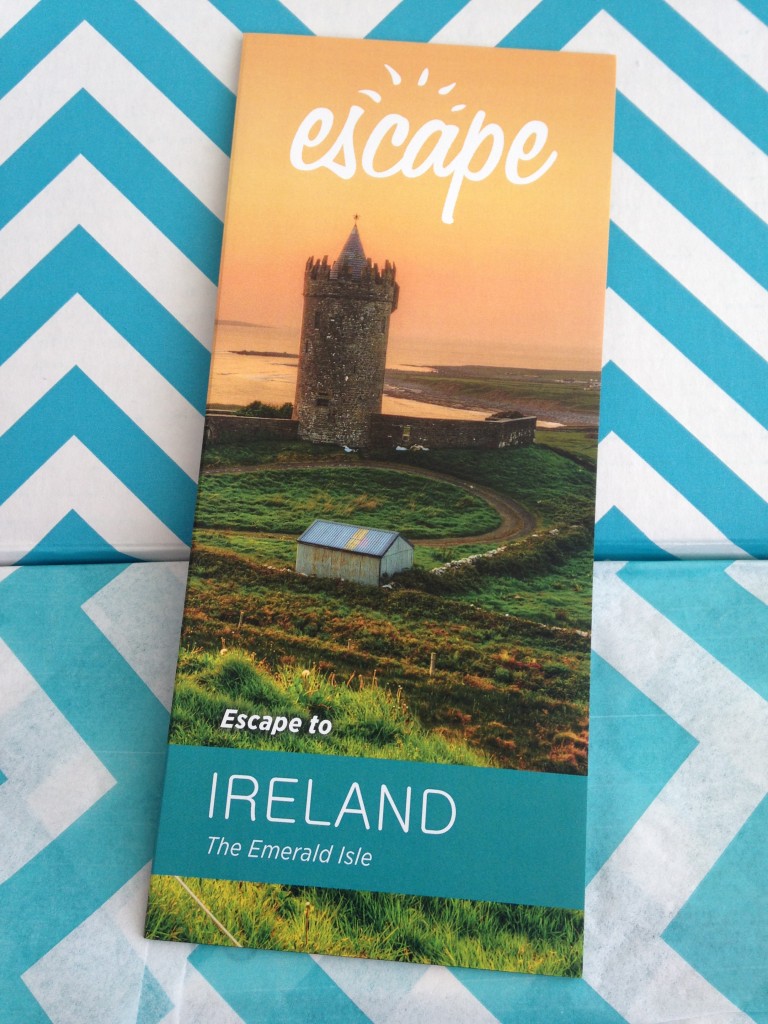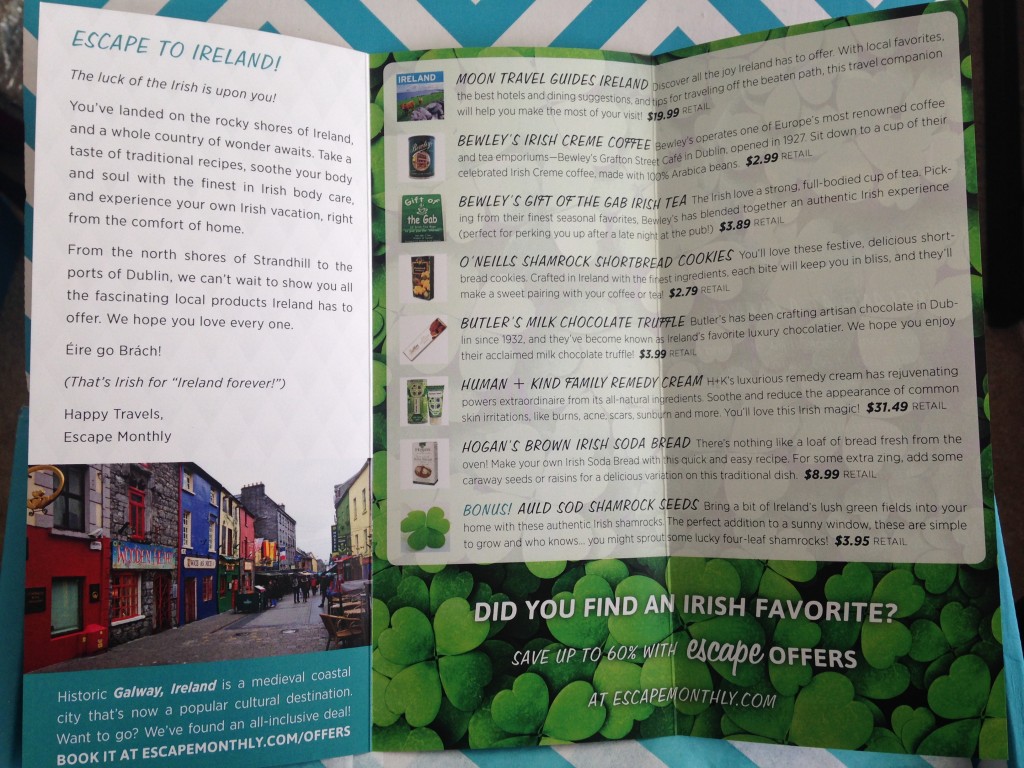 (click to enlarge and read full messaging)
Of course, who doesn't think of green when you think of Ireland (particularly around St. Paddy's Day?). I was actually surprised at how much green all the products have, giving it a very strong theme feel. I so wish I would have won this vacation… alas, hopefully I'll win one eventually!
Here's what came in the box:
Moon Handbooks guide to Living Abroad in Ireland – What a wonderful guide to have for any American looking to spend extended time in this beautiful country. I'll certainly be keeping it handy for when Panda and I get a chance to go visit. And hey, maybe we'll even be lucky enough to live there for awhile.
Human+Kind Family Remedy Cream – The fun packaging already sets the right tone. Then when I saw it's all-natural and made in Ireland, this immediately got more bonus points. This cream is meant for all kinds of skin conditions, ranging from burns and scars to stings and sores. You can even use it for brittle nails! It has a cooling, herbal sort of scent that includes tea tree oil. I certainly feels soothing, but I'm going to have to use it more to see if it actually does anything to reduce irritation.
O'Neills Shamrock Shortbread – Mmm, what rich and buttery shortbread! I love the crunchiness and the sweet aroma. The shamrock shapes are large so there are only four cookies in the box, but each one makes a sufficient snack. This makes for a fantastic bit of Ireland that is just wonderful.
Butlers Mint Truffle – It says milk chocolate truffle on the card, but I actually got the dark chocolate mint. It's a dark chocolate shell with a soft truffle center and little bits of crispy mint pieces. Yum! Certainly a very luxurious treat that tastes fabulous. Wow – it's like a super fancy mint patty. I don't usually even like mint chocolate!
Bewley Gift of the Gab tea – I can smell a strong tea through the plastic baggie inside. I haven't yet brewed this, but it's definitely the kind of tea I'd drink on an afternoon as a pick-me-up. If I was a breakfast person, it'd be a fabulous substitute for morning tea. Seems like it's similar to Earl Grey.
Bewley's Ground Irish Creme Coffee – Well, I don't drink coffee so this is all Panda's. I find it quite unique that the coffee grinds came in a can! I half expected them to be soaking in some creme or something. I'm sure Panda will like having a pot of this coffee – maybe we'll even wait until his brother's back so they can enjoy it together.
Hogan's Brown Irish Soda Bread Mix – I've heard of soda bread, but I have no idea what it is exactly. I'm not even sure I've ever tried it, but it looks wonderful. As a huge fan of bread, I'm sure this will be much enjoyed (if I can make it well enough). I look forward to trying my baking with this product.
Auld Sod Shamrock Seeds – The bonus product is just precious. Shamrock seeds?! I love it and I can't wait to get a little pot to plant them in. As soon as the plague of winter weather leaves us for good this year, I'm going to plant these! Think I'll get any four-leaf ones? 🙂
I thoroughly enjoyed the items in this box. I actually discovered that there are variations and I'm quite happy with mine. The other type I saw had marmalade, soap, and a seaweed bath instead of the guide book, tea, and truffle chocolate. I already have the seaweed bath, own way too many soaps, and probably wouldn't get around to opening a jar of marmalade for ages. What do you like most in the Ireland Escape Monthly box? If you want to sign up, try one of these codes (not sure which ones are still active): MEXICOESCAPE or YOURESCAPE for 20% off the lifetime of your subscription or GIFTESCAPE for 25% off.
Next up is Mexico next month! How wonderful that we're getting another international theme. I love it! I expect some wonderfully bright colors and festive flavors.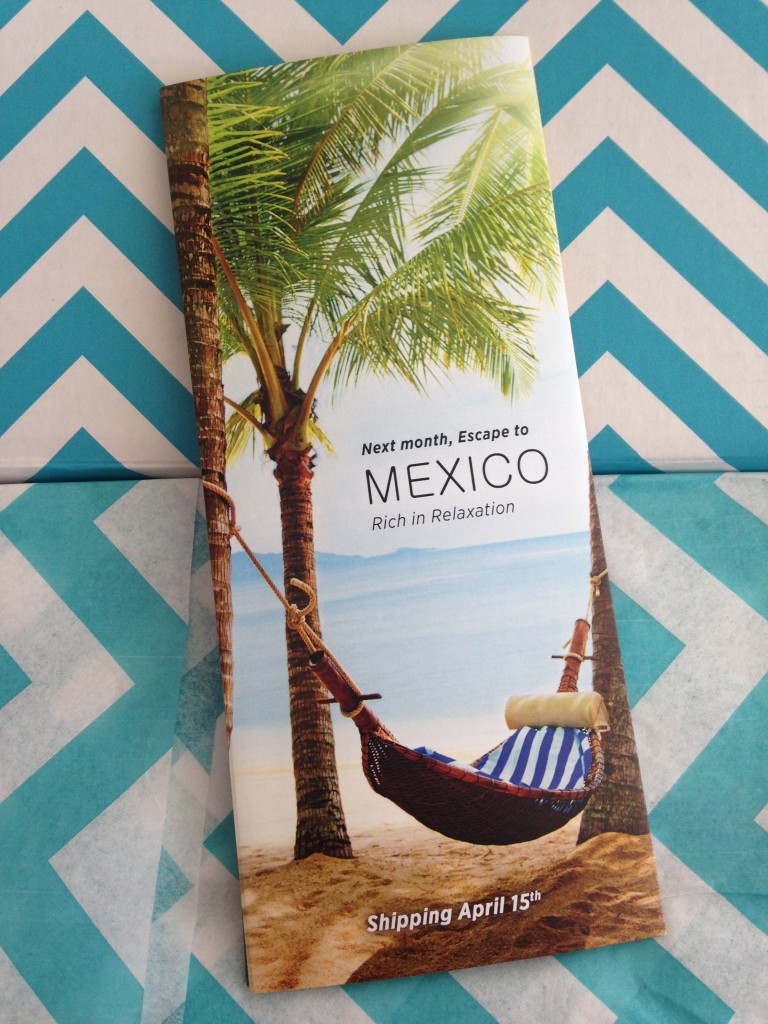 [This post contains affiliate links. Signing up through them helps support my subscription and I'd be ever so grateful. 🙂 All opinions are my own and I received no compensation for this review. I just purchased this box and wanted to share what I got!]
« Prev:On meanness
Barefoot:Next »