You know, I've been wondering about the dry spell in sub boxes lately and I thought this GREENBOX should have arrived awhile ago. Whatever the case, I'm pleased to have received it today. This month's cheese theme is very intriguing.
The Homegrown Collective GREENBOX is $39 per box + $9 shipping (or as discounted as $429 for an entire year, with options in between) and comes with fun and easy projects to live a more sustainable lifestyle. Boxes are sent monthly with no option to skip. They offer a referral program you can apply to join.
Project #1, knife sharpening: I love this! I've never sharpened my own knives before, but I'm sure I could use them better if I did. It's also nice to get another knife since sharing one with Panda can get tricky when we're both trying to cook in the kitchen. I'm going to have fun with this one. For some reason it makes me feel like a Japanese sushi chef. I'm sure the gloves and goggles will also come handy in other work around the house in the future.
Project #2, mozzarella cheese-making: I'm generally not that into cheese, but I've been getting into it more. This is a perfect chance to explore that type of food and feel like a scientist in the process. I'm also really glad to have a thermometer I can use for food, so I can check the temperature of meat I cook in the future! I've never owned this pen-looking type of food thermometer before and I feel so professional just having it. I also had no idea herbs can go into mozzarella cheese, so I'm curious how that will affect the taste.
No third project this time (a first). I wonder if it was because it was hard to keep with the theme or if the costs of all this was already reaching the value they could afford to send. No matter! Onto the info card talking about cheese for this month's theme: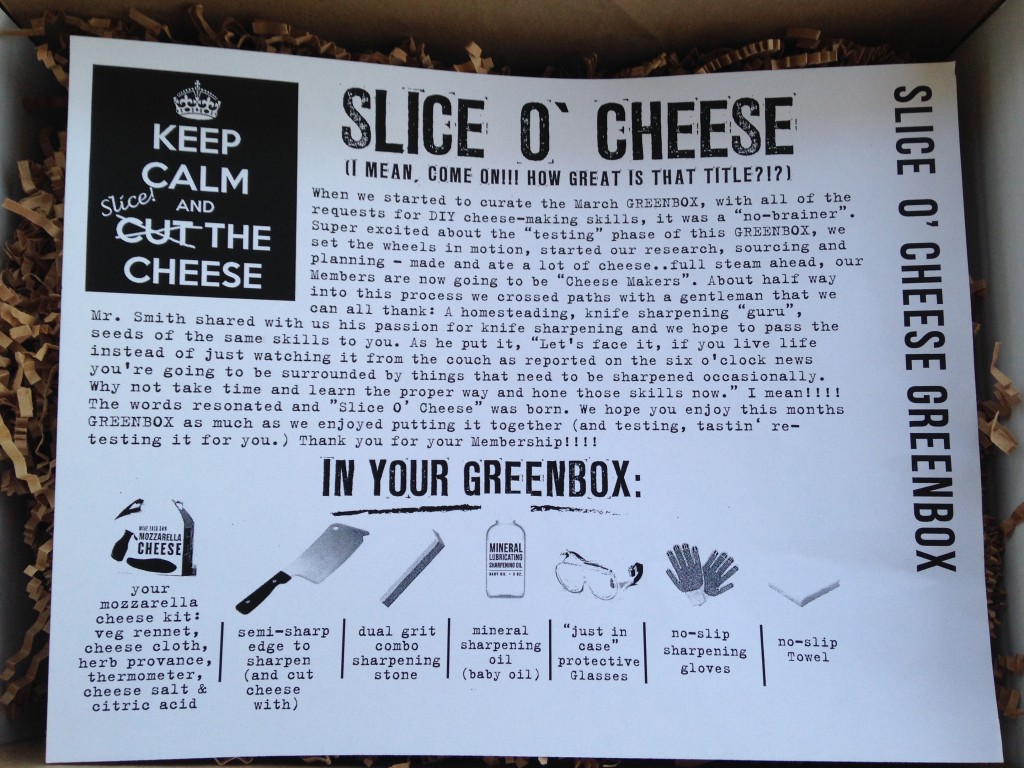 To get your own awesome green projects, subscribe to the Homegrown Collective today. You'll feel so much craftier!
[This post contains affiliate links. Signing up through them helps support my subscription and I'd be ever so grateful. 🙂 All opinions are my own and I received no compensation for this review. I just purchased this box and wanted to share what I got!]
« Prev:Free cone day
24ClearIt Acne Therapy review:Next »