You know you're an old-timer when you start to see familiar projects showing up! I'm sure I would have been more excited if I didn't already try two of these projects already, but these are great nonetheless. I think it's all very seasonal and appropriate.
The Homegrown Collective GREENBOX is $39 per box + $9 shipping (or as discounted as $429 for an entire year, with options in between) and comes with fun and easy projects to live a more sustainable lifestyle. Boxes are sent monthly with no option to skip. They offer a referral program you can apply to join.
Project #1, essential oil immune boost: When I first saw this, I thought it was the tincture project from last year, but it looks more like the oregano oil one with a twist. I thought it was something you drop on your tongue for a boost, but then I wasn't sure if it was meant to be inhaled more. Now that I compare it to the oregano oil though, I'm pretty confident you can ingest it as well as use it for a topical solution, since both oregano and peppermint are safe to eat. This is perfect timing what with compromised immune systems all around me at work.
Project #2, evergreen oil lamp: I made this very lamp last year and brought it to our new condo for a housewarming item the first time we visited after it was complete. 🙂 It's very easy to put together and can burn crazy large flames if you don't trim the wick down a lot. I like it more for the look and don't really feel like tainting the wick with a burn. After a few months, the plants inside went brown – I'm not sure if that was due to the heat from the flame or if they'd do that anyway. I'll have to leave this one around without burning it for comparison.
Project #3, cacao wonder cups: One of the very first projects I ever conquered! This one came in the August 2013 box that was my first and they were fabulous. The chocolate chips are a little different this time around, but no doubt just a tasty. I'll have to make this for my coworkers sometime. They'd love it! What a nice winter treat.
This was the first time I was a little disappointed with the box, just because it included repeats. Still, the projects in and of themselves are wonderful and I'm happy to do them again.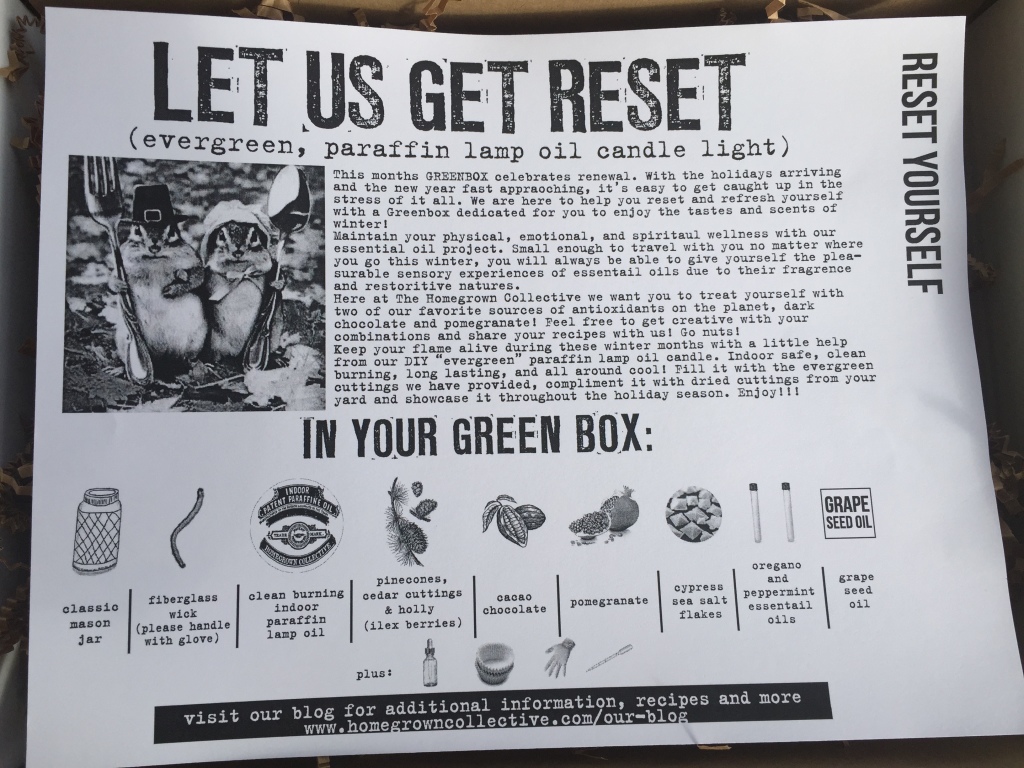 If you want sweet projects like these, subscribe to the Homegrown Collective now! Why wait? Get an awesome start to 2015.
[This post contains affiliate links. Signing up through them helps support my subscription and I'd be ever so grateful. 🙂 All opinions are my own and I received no compensation for this review. I just purchased this box and wanted to share what I got!]
« Prev:Beauty Box 5 December 2014 review
Toilet trouble:Next »