I just received my first Ipsy bag for 2014 and I've got to say I'm rather underwhelmed. The bag design makes me think of airports and all their reminders of what you can and cannot bring through security. I got an eye shadow yet again (how many times is this going to happen even though I indicated NO interest in eye products??). The thing I'm most interested in is actually the Proactiv+ Mark Fading Pads – if they work.
Ipsy is $10 per glam bag and comes with 5 or so beauty/skincare products. Bags are sent monthly with no option to skip. There's usually a waitlist to get the subscription. They offer a referral program that earns you points towards free products.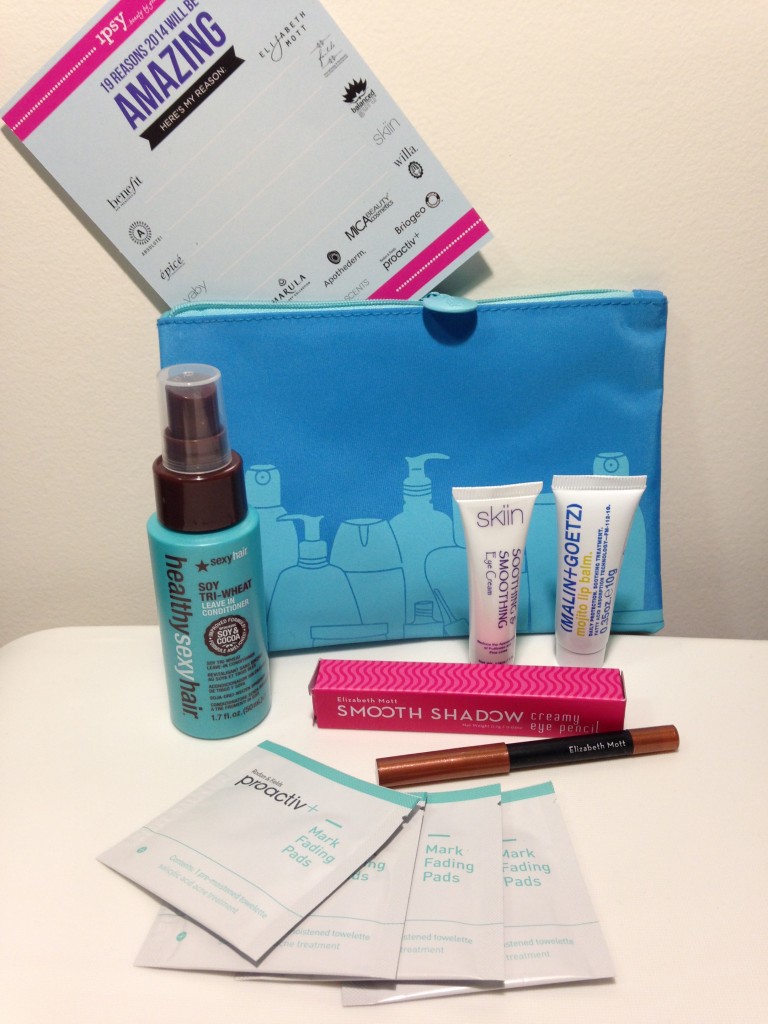 I didn't get the theme this month. Is there some significance to the number 19? Maybe they just ran out of ideas.
sexyhair soy tri-wheat leave in conditioner – At first I thought they'd sent me a repeat product, but a more careful look made it clear that I had previously received a hair spray before and this time it was a leave-in conditioner. I'm totally cool with that and will definitely give this a try. I haven't used a spray-on conditioner, so this will be cool (especially after I just wrote about how I love sprays and the way it distributes more finely). I don't usually use a leave-in conditioner but I probably should since my hair needs some help retaining a conditioned appearance.
skiin Soothing & Smoothing Eye Cream – I don't use eye creams so I'm going to try to trade this. It's a pretty good size for an eye cream and would last quite awhile! I have plenty of unused ones though, so if someone else is interested in this I might as well try to get something I'll get around to using. I've never heard of this brand and I'd like to try something of theirs another time.
(malin+goetz) mojito lip balm – This is a pretty cool product with a unique flavor. Can't say I've ever had a mojito-flavored anything before. There's a lightly refreshing taste to it and it comes out in a clear, somewhat gooey liquid form. I can see it being very effective in keeping the cold air from drying out your lips. It's slightly more sticky than lip balm but not quite as shiny or sticky as lip gloss.
Elizabeth Mott Smooth Shadow creamy eye pencil in Penny – I have nothing against the brand, but since the product is an eye pencil, I was disappointed to get it. The color is a coppery shade that looks nice. Still, I'm totally going to put it up for trade along with almost every other eye liner and pencil and shadow I've gotten. I wish Ipsy would really cut back on sending me those products. I don't know how else to make it clear on my profile that I don't use them!!
proactiv+ Mark Fading Pads – The most intriguing products of the bunch! My acne problem has seemed to calm down a bit as my body shifts focus to fight whatever illness or infection I might have contracted, but I still have awful scars. I'm really hoping these work because I could really use something to get this acne issue under control. I really thought things would have gotten better by now! Why don't they warn you that acne problems last long past your teens??
If you're interested in a trade, let me know and check out what else I have up on my FSOT list.
[This post contains affiliate links. Signing up through them helps support my subscription and I'd be ever so grateful. 🙂 All opinions are my own and I received no compensation for this review. I just purchased this bag and wanted to share what I got!]
« Prev:365great Day 306: mini golf
365great Day 307: mountains:Next »