Wow, quite possibly the worst bag I've received to date. Not a single item that I would use or plan on keeping. I'm also not sure why there were only 4 items this time – that's never happened during my subscription. I might have to consider cancelling this and going exclusively with Beauty Box 5, which has been impressing me far more.
Ipsy is $10 per glam bag and comes with 5 or so beauty/skincare products. Bags are sent monthly with no option to skip. There's usually a waitlist to get the subscription. They offer a referral program that earns you points towards free products.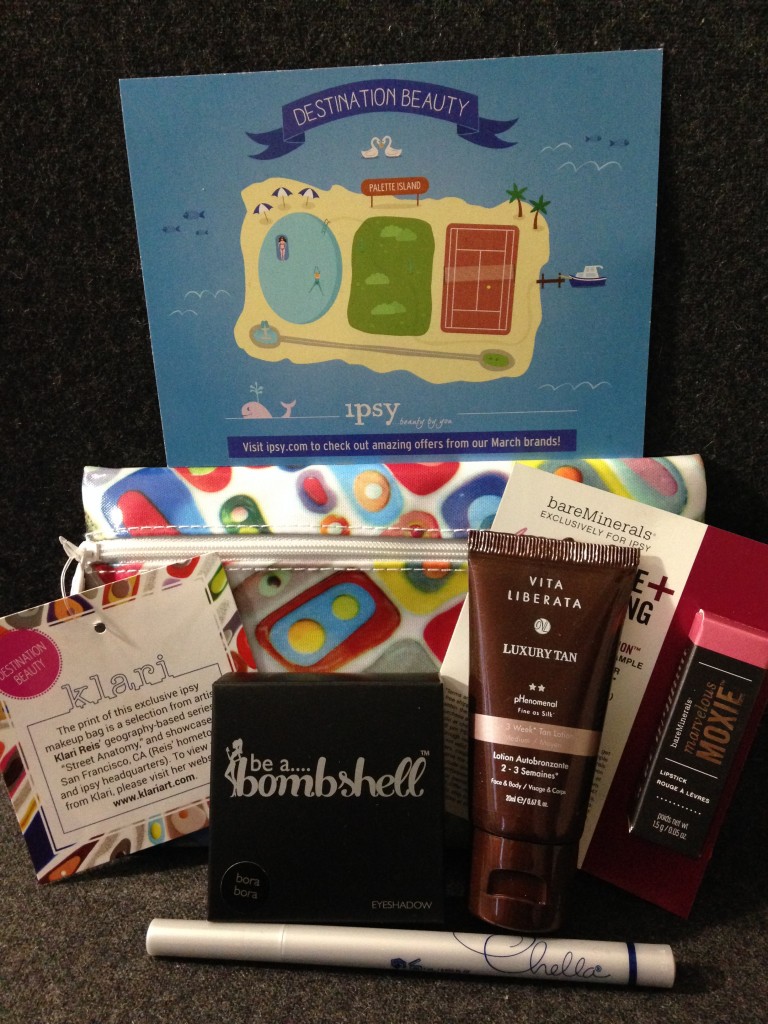 be a bombshell eyeshadow quad in bora bora – I do like this palette better than the other one I could have received, but that's the only upside. I mean, how else can I make it clear on my profile that I don't want eye products? I indicated in multiple places in my profile, but IpsyMatch doesn't seem to work.
Vita Liberata Luxury Tan Lotion – I've never tried tan lotion and I'm really not interested in it. There were three other items I could have gotten instead of this and I would have preferred ANY of them. This is the only item I don't want – bleh.
bareMinerals marvelous moxie lipstick in Get Ready – Adorable little lipstick, but not a product I use. I'll go for lip gloss, lip balm, even lip stains, but lipstick just doesn't work for me. The other item I could have gotten instead is a lip gloss… why didn't I get that? 🙁
Chella eyeliner pen in Indigo Blue – What a cool color, but way too bold for me. I might try eyeliner on a night out (which happens like once a year), but not something quite so bright in color. I could have gotten a BB cream or nail polish instead and I would rather have received either. Hopefully I can trade for something I'll use.
The bag itself was decent and I like the concept of featuring artists, but everything inside was disappointing.  If you want to trade, check out my FSOT list.
[This post contains affiliate links. Signing up through them helps support my subscription and I'd be ever so grateful. 🙂 All opinions are my own and I received no compensation for this review. I just purchased this bag and wanted to share what I got!]
« Prev:Beauty Box 5 March 2014 review
Ridiculous things he does:Next »