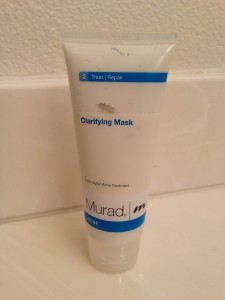 I got a facial at Massage Envy a few weeks back – my first one there – and boy have I been missing out! They use Murad products for their facials and between the products and the esthetician, I couldn't have asked for a better experience. I came out with fresh, soft skin and for the first time, I actually noticed that my pores (particularly on my nose) looked smaller! After reviewing some of the products my esthetician during my facial, I decided to buy the Murad Clarifying Mask for use at home as well. I mean, this is right when I was getting fascinated with kaolin clay, so when I found it was one of the ingredients, I couldn't help myself. I need some gentle skin purification!
I've used the mask a bunch of times since then and I'm really enjoying it. You don't need much to cover your face, so the bottle will last a nice long time, even if you use it frequently. I am still struggling with acne and consistent breakouts at this age (whyyy?!), which this has helped calm down. My skin is clearing up and if  I do get another breakout here and there, they are much smaller than before. Perhaps I should use the mask more than once a week to get that under control. Immediately after wiping off the mask, I always feel great – my blackheads have diminished, my skin is very soft, and overall my skin feels healthier. It's great!
So if you have oily or combination skin, breakouts/acne, blackheads, or large pores – give this product a try. Let me know how it goes!
« Prev:365great Day 52: solid shampoo
365great Day 53: tea:Next »