(Linking up with Jennifer of Ramblings of a Suburban Mom for Thursday Thoughts)
Ok, so I've really been enjoying the updates from Jen at Ramblings of a Suburban Mom and I particularly like how she shares her thoughts and what's going on in her life – most of which we readers/followers can certainly relate to! I often have a ton of random thoughts that I like to share as well, so I'm adapting a version of her "Monday Morning Ramblings" + "Tuesday Troubles" + "So What Wednesdays" + "What I'm Loving Wednesdays" + "Thursday Thoughts" + "Friday iPhone Dump" + "Saturday Smiles."
I'm going to roll them all into one post every now and then, highlighting what's been going on and what's on my mind. And so, I'm dubbing it "On My Mind," though it will likely include any snippet from my life that I want to share! Call it a "mind dump" if you will. 😛 I'll try to make it all easy-to-digest bullet points and include some pictures/videos to help illustrate some of the points. So here we go!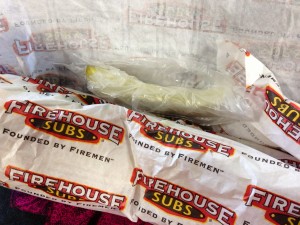 ~As I was going through the TSA checkpoint earlier this week, the guy manning the x-ray machine asked who brought the sub sandwich. I had a brief second of "oh no they're going to confiscate it!" before bracing myself and cheerfully saying, "It's mine!" He then asked, "Oh and you got a pickle with it too?" He seemed pleased when I was surprised that he could tell there was a pickle slice on the side. Random, but it made me smile.
~When I boarded the plane, I saw a guy mounting his GoPro on the window so he could capture our flight. I can see him doing some sort of time lapse with that footage. I wonder what the end result looks like!
~Why do I always get the wing seats?? I hate having the wings obstructing my view of everything below, but those seem to be the only window seats open whenever I book a flight. I need to travel more and rack up mileage so I can get in front of the wing!
~There were 4 boxes waiting for me when I arrived home and 3 of them were things I had gotten for free! Pretty exciting. Two of those were from winning giveaways and the other was from writing 100+ reviews on Gogobot.
~That 4th box was a Blissmo box I'd ordered and I attempted to do an unboxing video today. Verdict: I'm not good at it & it's not worth the effort! I'll still to pictures for now.
~I was invited to my first survey to qualify for a VoxBox from Influenster! I was sad when I first joined because my score was a lowly 30 and didn't budge after I completed a bunch of activities. Turns out it just takes their system time to register the new activity and my score jumped to 89! Hopefully I qualify for this mystery box… I'd love to review something like that.
~I've been entering a lot of sweepstakes & giveaways and I noticed something funny in many of the Official Rules – if the contest is open to Canadian residents, they require a competency test involving some basic arithmetic… why in the world?!
(click to enlarge) 

« Prev:365great Day 13: notebooks
365great Day 14: sea monkeys:Next »