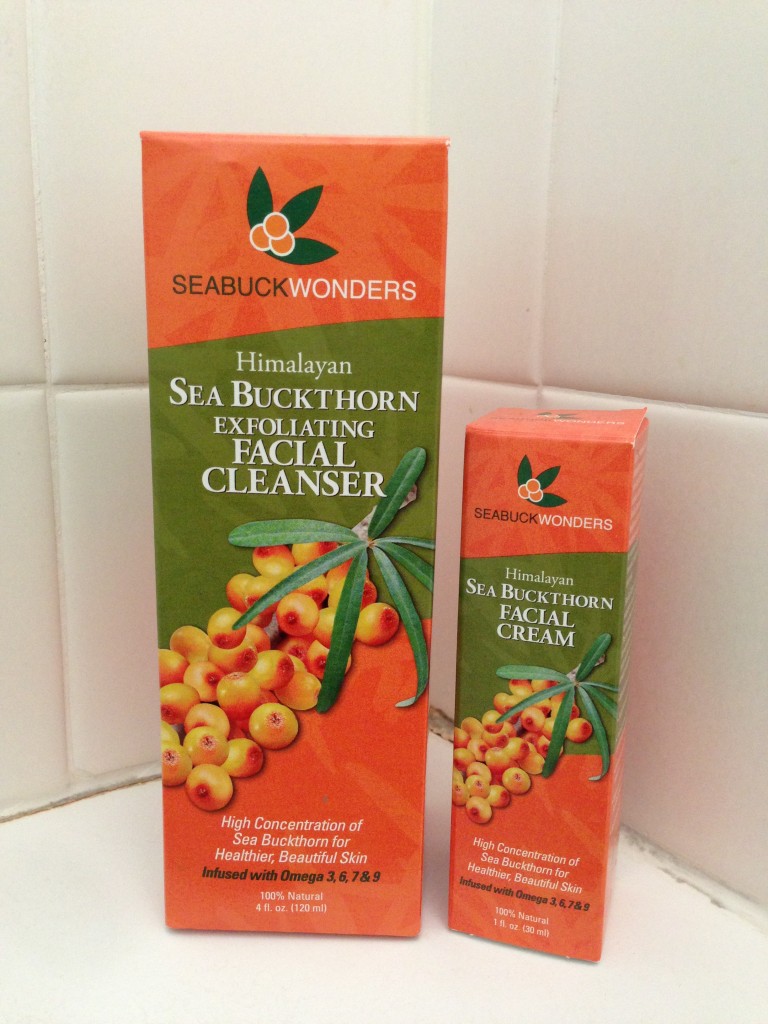 I mentioned my awesome win with these Seabuck Wonders products (Sea Buckthorn Exfoliating Facial Cleanser & Sea Buckthorn Facial Cream) a few weeks ago and I wanted to write a more in-depth review of them both. I've really enjoyed using them so far and I love how unique they are! Seabuck Wonders products are vegan and free of parabens, cruelty, dairy, wheat, and gluten.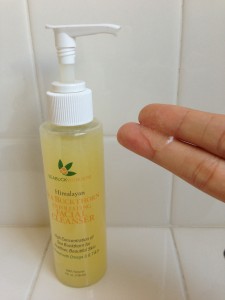 First is the exfoliating facial cleanser, which has small beads in a yellowish clear mixture. It come with a pretty standard pump head and you barely need to press down to get enough to use. It was a challenge to get it to work at first – you might have to unscrew the cap and pump a few times like I did. The consistency is somewhat runny, if you can tell from the photograph. It has a light fruity sort of smell – not as sweet as strawberry or peach, but not fully citrusy like lemon or lime. I can't quite place it, but it smells nice and soothing. All you need is a teeny tiny drop! That drop on my fingers is probably twice as much as I needed. I really like how this cleanser is slippery so it spread over your face well. As you massage, it will foam a wee bit, but probably not something you'd even notice so don't expect to see bubbles. Everything glides so smoothly on your face that it takes a few extra splashes to wash it off. Personally, I enjoy that since I can feel exactly where it was and I know it covered my whole face. However, if you like more goopy and less slimy cleansers, you may not enjoy the tactile experience.
Would I buy this when I run out? Yes, probably (after I use up some of my other cleansers).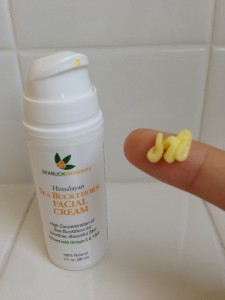 Then there's the facial cream, which is a milky yellow/orange hue. I love this little bottle, which has a super cool dispenser! Once again, a tiny little push gives you plenty of product to work with. The amount shown in the picture is probably double what's needed for your face and neck. This one smells less sweet and has more of a citrus with some other element I can't identify. I'd say it's more masculine-smelling than the facial cleanser. It is very hydrating and absorbs well into the skin, but it not meant for controlling oil so you may need some shine control afterwards if you're prone to oily skin. I don't have wrinkles or visible sun damage, so I can't speak to how the cream may help against those, but I've heard great things about sea buckthorn so I would definitely try this when I need help with wrinkles or sun damage.
Would I buy this when I run out? Probably not for awhile, since I have somewhat oily skin and I'm more interested in a moisturizer that controls oil. However, this could be great for the dry winter months.
« Prev:365great Day 113: road trips
365great Day 114: electric toothbrushes:Next »