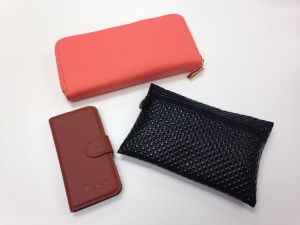 For the past couple of months, I've been trying out different wallet solutions. I've been bored of the standard purse for a long time and I hardly need it since I sit at work all day. I'd been using little bags like the black one pictured (which is my favorite Ipsy bag), but then I decided to downsize to the bare minimum. I switched to the brown iPhone wallet, which holds my phone and a few cards. There was barely even room for cash. I liked that everything was rather consolidated and I always had my most important things connected to each other. However, after awhile I started to get tired of having a bulky phone every time I wanted to speak on the phone.
When I was in China doing my shopping, I came across some wallet clutches that I liked, but got too ambitious with bargaining and didn't end up getting one. Luckily, I found that Target has a decent selection of the style I like and I recently got this fun coral bag. I like that it zips around, is large enough for plenty of cards and bills, and easily fits my phone. Now I can just drop my phone in and off I go with all my necessary items. When I need to make a phone call, I can still use the phone separately and not be weighted down by a case. I just need to get used to carrying it around – the very first day I brought it to work, I accidentally left it at my desk. Oops!
I'm sure as time wears on, I will get sick of stuffing my phone in each time I want to zip it up and go, so I'll be on to the next solution. Needs change and along with them, so too will my choice in wallets, purses, or clutches.
« Prev:Our very own cat
Our cat and us:Next »