I've tried a different type of Tide Pod before, which was fun in itself. This new Febreze version is even better! I love the colors and upon opening the pack, you immediately get that refreshing scent. You just have to be careful if you have kids or pets, in case they mistake these adorable pods for a treat. Be sure to store them away from reach and sealed in the resealable package!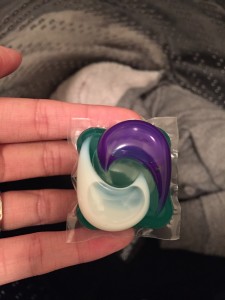 I'm typically not motivated to do laundry, so I try to get large loads ready to maximize the effort each time. It's always so messy trying to measure out the amount of detergent to use and I end up with a sticky cap and detergent drawer. I love that these pods not only take out the guesswork, but the mess too. All I have to is drop one in a load and set the machine to go! My clothes come out smelling amazing and it lingers on the clothes, keeping that fresh feel over many wears. In fact, I went out once and thought that the restaurant was using a special perfume, but then I realized the whiff I got was my own clothing's Febreze scent.
I don't think these could be any more convenient and I'd love to see them start to offer other Febreze fragrances to spice things up. I'm totally grabbing these in the aisle whenever I need more detergent for my washing needs. Why make laundry more complicated than it needs to be?
[I received these products free from Influenster for testing purposes. All opinions are my own.]
« Prev:Escape Monthly April: Japan Box review
Glass fusing art project:Next »