Ever wonder what it's like to fly with a cat? Here's my story… (or skip to the tips if you're pressed for time)
My mom finally relented after over a year and a half of debating whether I could and should bring Missy to the east coast with me, so yesterday I boarded a plane, cat carrier in tow. I purchased the in-cabin pet ticket about a week ago – originally there was a place to add the pet from my reservation online, but when I went back when I was ready to commit, it was nowhere to be found. I ended up calling up the airline to purchase it for $125. Luckily, we already had a carrier that my mom used back when she moved one of my previous cats, Jerriey, to Beijing.
The morning of, we packed my bags and then brought Molly down to witness Missy leaving. Molly kept running away and didn't seem at all interested, but she did notice Missy in the carrier. At first Missy was a little confused, but calm as she wondered what was going on. Once we started to drive, she got scared and meowed all sorts of meows – timid frightened ones, deep guttural ones, and loud complaining ones. Occasionally she panted as if she were hyperventilating.
At one point, my mom complained of the smell of feces. My cousin and I were oblivious until much later, when I suddenly smelled it too. I saw one piece, which I was able to pick out with a paper towel. My mom didn't believe there was only one, so we let the cat out and found a bunch more! We picked them all up in the paper towels and I tried to ignore the smell. Eventually, I found a plastic bag to tie it all up in and Missy seemed better when she was able to move around, sit on my cousin, and look out the window. We continued on and all seemed well until my cousin noticed a strange smell. She looked around and found that somehow Missy had pooped again – this time it was more wet and probably due to the nerves. At this point we were stopping so I could get some See's Candy to bring back. We used the last of the tissues and paper towels we could find to pick up the new batch and I took the plastic bag with everything to throw it out.
By the time we reached the airport, I felt like the carrier smelled of urine. There was nothing I could do just yet, so I met up with Panda and we checked in our luggage. The cat carrier counted as an item, so I couldn't bring my suitcase AND the tote bag I usually have, so I checked the suitcase. Since I had to check a bag anyway, I decided to pack an extra suitcase and bring back some of the things I had been meaning to transport, like my Lumnique candle (the whole box it came in) and my set of Crate & Barrel glasses, carafe, and tray that I won.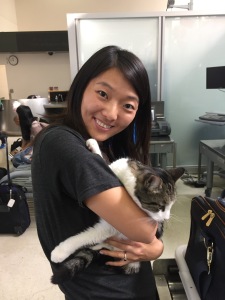 When we went through security, I was surprised to discover they had me carry Missy through the screening. I thought I'd bring the whole carrier, but that went through the x-ray like everything else. They also made sure to wipe my hands to check for explosive residue (or whatever else they want to make sure you didn't touch). Good thing Missy's an easy-going cat or I don't know what sort of insanity might have ensued. If it were Molly, she'd be so upset I'm sure I would have gotten injured and she likely would have escaped. If it were Smokey, she'd probably be scared out of her wits and run off to hide. I zipped Missy back into the carrier, gathered our things, and headed to the gate. Once we got there I wanted to do something about the smell coming from her carrier.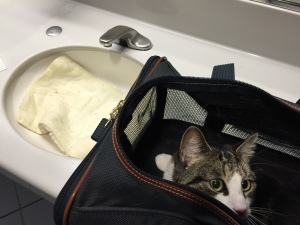 I left Panda with our stuff and took Missy to a restroom, where I washed the sherpa mat that sits at the bottom of the carrier. I could see a large stain at the bottom, so the whole thing needed to be rinsed. After washing it with soap and wringing it dry as best I could, I went to all the restrooms I could find to see if there was a hand dryer. Unfortunately, they all relied on paper towels and I didn't want to waste any more of those (I'd used many sheets trying to pat the lining dry). Back at the gate, I asked Panda to see if the men's restrooms might have a dryer and he eventually came back with just a slightly dripping wet mat that he'd put through a Dyson Airblade. He got two stacks of paper towels, one to put underneath the sherpa and one to put on top. The nice thing about that material is that even though the bottom was still quite wet, the fluffy top part was practically dry so it was actually pretty comfortable for Missy to use again.
I'm pretty sure that Missy managed to pee once more at some point after that, but oh well. The smell wasn't too strong and I really could only tell when I had my nose right up to the carrier. Soon, we boarded the plane and held her carrier on my lap until we were pushing back from the gate. When I went to put her under the seat in front of me, I discovered that there are these annoying plastic boxes that take up a good 2-3 inches, so there was no way the carrier could fit length-wise. I had to put it parallel to my legs, with only the back half under the seat. The seat was also so low it was pushing down the walls of the carrier. I think because we were in Economy Plus, they gave less foot room there because there's more leg room (most people wouldn't notice that part so long as their knees aren't squished).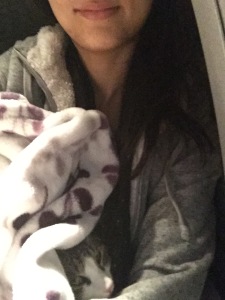 Throughout the ride, I kept leaning over to check in on Missy. I let her head pop out a few times and I pet and scratched her to make sure she got attention. After the beverage service, I left a little water at the bottom of my cup and tried to give it to her, but she wasn't interested. Later in the trip, she kept trying to break out, so I let her crawl on my lap for a little bit. She was shivering like crazy, whether cold or stressed or both. I then delivered her back to her carrier for the remainder of the trip and checked in on her when we landed. A couple of times she meowed super loud, but the people around me didn't seem to notice or care. Overall she was great though, and patiently sat in the carrier without a peep.
So based on what I've learned, here are some tips:
Make sure you buy your pet ticket ahead of time and ask the attendant at the check-in counter to print the receipt for you (keep it handy, they'll want to see it when you board).
Get a travel-approved pet carrier (soft sides, appropriate size, sturdy – and that sherpa lining on the bottom can be quite useful!).
Book a window seat so you can place the carrier on the ground without bothering other passengers and blocking their way out of their seat.
Either make sure your pet goes to the bathroom the morning of the trip (if possible) or try to use a plastic hard carrier for the first leg of the trip so accidents are easier to clean. Of course if you can't leave the carrier with whoever's driving you or you don't have free checked luggage, you might just have to deal with a dirty carrier.
Try to bring a blanket to help cover the sides of the carrier if it's going to be cold or you don't want your pet stressed by everything outside.
Prepare some plastic bags if you need to clean up poop and bring old towels you can swap out in the carrier.
Wear clothes that you don't mind getting dirty and smelly. Use a jacket that is a tougher material if your pet has claws and might try to kick you with them (that way it doesn't hurt and it's easier to wrangle her back to the carrier after security).
Have you traveled with a pet before? What would you recommend for air travel, especially for cats?
« Prev:Escape Monthly December: Europe Box review
Power Supply Week of Dec 15 review:Next »