This month offered a choco-rific selection. They arrived in perfect condition, no melting at all! It looks like last month I just didn't get the info card, because this time it was back. For the first time, I might have felt compelled to upgrade to the current Treatsie box with the extra items. If this continues I might up my subscription before my grandfathered plan expires.
Treatsie is $15 per box + $4.95 shipping and comes with artisan candy from 3-4 brands (I am grandfathered in for $15 for 2-3 brands and fewer items). That means about 6 or 7 different flavors of treats (or 4 or 5 for me). Boxes are sent monthly with no option to skip. They offer a referral link program to earn store credit. Use my referral link to get your first box FREE!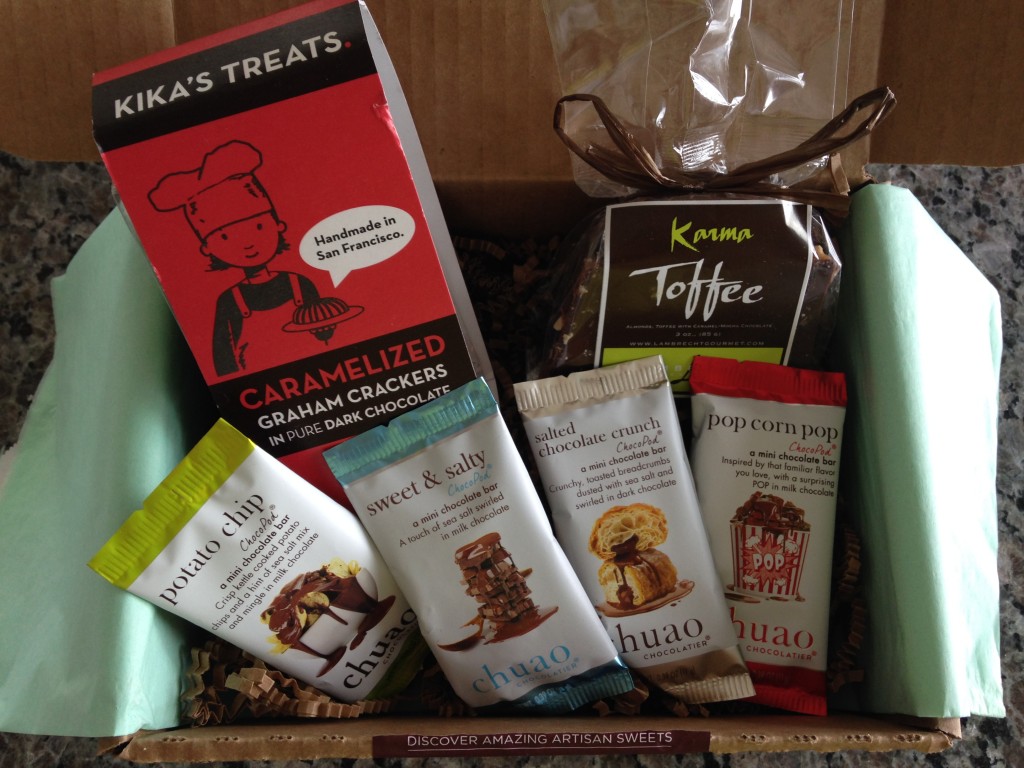 Kika's Treats Caramelized Graham Crackers in Pure Dark Chocolate: Caramelized is always a win in my book. These crackers are nice and crunchy, yet not super crumbly like the non-caramelized versions would be. They make a pretty fab snack and it's almost toffee-like inside. They remind me of another snack that I can't quite put my finger on. I can see these being a great accompaniment to a hot drink in the coming fall and winter.
Lambrecht Gourmet Karma Toffee: I was a bit concerned about the chocolate having a mocha flavor, since I'm not into that, but it's not too strong. Still, I'd opt for a different flavor for future toffee needs. The toffee is not too sweet and the almond bits are a great way to offset the taste. I could use a little more chocolate to toffee ratio – the chocolate melts in your mouth and then there's a huge chunk of toffee. I'd like more chocolate to linger.
chuao chocolatier potato chip, sweet & salty, salted chocolate crunch, and pop corn pop ChocoPods: At first I thought all their flavors incorporated potato chips, because that was the first flavor I saw. What an intriguing idea! I totally expected a chip dipped in chocolate, but it was more of little crunchy bits mixed evenly throughout the chocolate. I'm a fan of all of these! The minis are especially adorable because of their leaf shape. I really want to order more of these right away, but the Labor Day code isn't working for them.
All off these treats were delicious, even if they weren't my most preferred flavor. Just think how much I would have loved it with flavors matched to my palette! Which snack here do you like most? To get Treatsie, sign up with my link and get your first box free!

[This post contains affiliate links. Signing up through them helps support my subscription and I'd be ever so grateful. 🙂 All opinions are my own and I received no compensation for this review. I just purchased this box and wanted to share what I got!]
« Prev:Juice Beauty deal
By and by:Next »