If you upgraded to the new premium version of Treatsie, you'll find you got more items than me. This time I got an email from Treatsie reminding me about the change and letting me know that premium boxes had an extra chocolate bar. If you got it, please do share what flavor you received. 🙂
Treatsie is $15 per box + $4.95 shipping and comes with artisan candy from 3-4 brands (I am grandfathered in for $15 for 3 brands and fewer items). That means about 6 or 7 different flavors of treats (or 4 or 5 for me). Boxes are sent monthly with no option to skip. They offer a referral link program.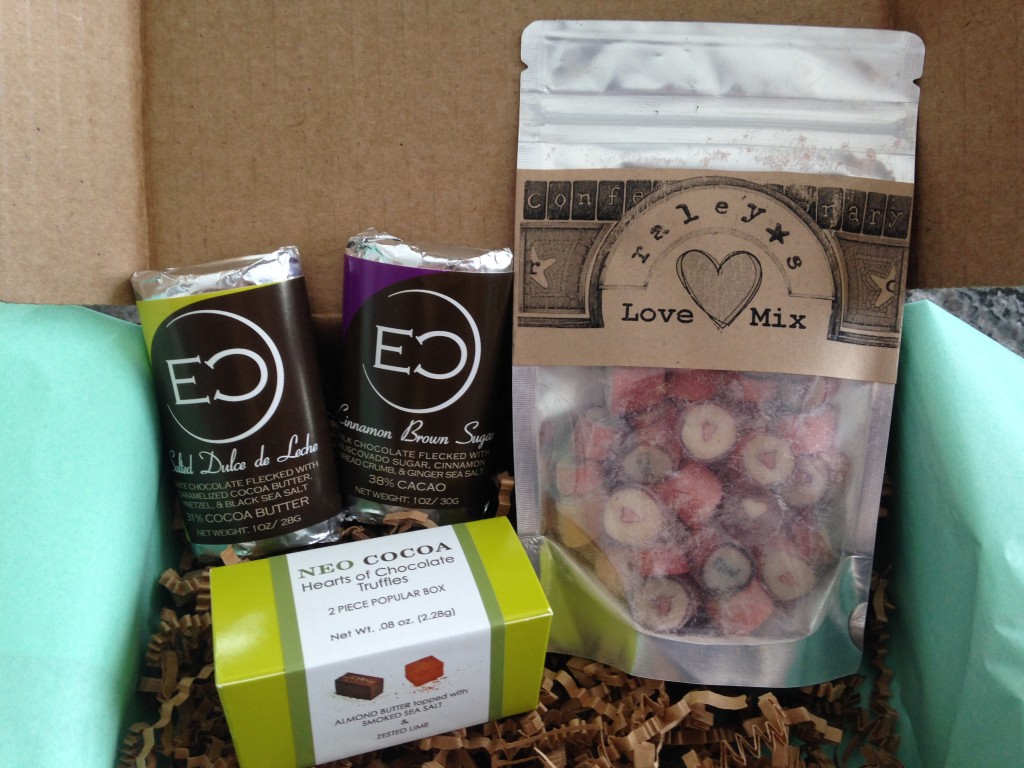 Eclipse Chocolate Salted Dulce de Leche and Cinnamon Brown Sugar bars: These are the bars that premium subscribers would have gotten a bonus one of. Everyone got the two flavors that I did here, which I think are great choices for a wide audience. The Salted Dulce de Leche is amazing! There is so much going on in that bar, with pretzel pieces, sea salt, and rich caramelized cocoa butter all in white chocolate. I love the combination of everything and it's so unique. The Cinnamon Brown Sugar is delicious too, which far finer granules mixed in for a smoother taste and texture. This one is sweeter and rather warming, probably due to the cinnamon. Yum! I'm a fan of this brand for sure.
Raley's Confectionary Love Mix: How cute are these hard candies? They're a sweet fruity flavor (mix of pomegranate, cherry, cinnamon, and cranberry) with a little bit of tartness that comes in later on. It can't be easy to make these beautiful designs, so that's impressive. These are perfectly themed for Valentine's and they're a refreshing change from the typical holiday treats you'll find in stores.
Neo Cocoa Zested Lime Truffle Heart and Almond Butter with Smoked Sea Salt Truffle Heart: Wow, these truffles are rich. One piece can really go a long way (even half a piece is satisfying!). I like the lime one because it is wonderfully fragrant and I love the taste of lime. They blended it beautifully with the chocolate for a light flavor that is yummy. The almond butter one with sea salt is a more standard sort of taste. I feel like I'm at some fancy event when I eat these!
I'm still debating about the premium box. While I really enjoyed the Eclipse Chocolate, would getting a third flavor be worth the extra cost? I might want to run out my subscription at the original pricing through 2014 before upgrading! What are your thoughts on the items in this box?
[This post contains affiliate links. Signing up through them helps support my subscription and I'd be ever so grateful. 🙂 All opinions are my own and I received no compensation for this review. I just purchased this box and wanted to share what I got!]
« Prev:365great Day 335: Vapiano
365great Day 336: ambiance:Next »