Just in time for my trip, I got these treats to snack on. With the warmer months in play now, we probably won't get much in terms of chocolate, since it'd likely melt along the way. It's also been awhile since Treatsie has included little ice packs with their boxes, which is good in that it saves on waste. I do miss the nice inner boxes that I reused for storing various things. So much is changing!
Treatsie is $15 per box + $4.95 shipping and comes with artisan candy from 3-4 brands (I am grandfathered in for $15 for 2-3 brands and fewer items). That means about 6 or 7 different flavors of treats (or 4 or 5 for me). Boxes are sent monthly with no option to skip. They offer a referral link program.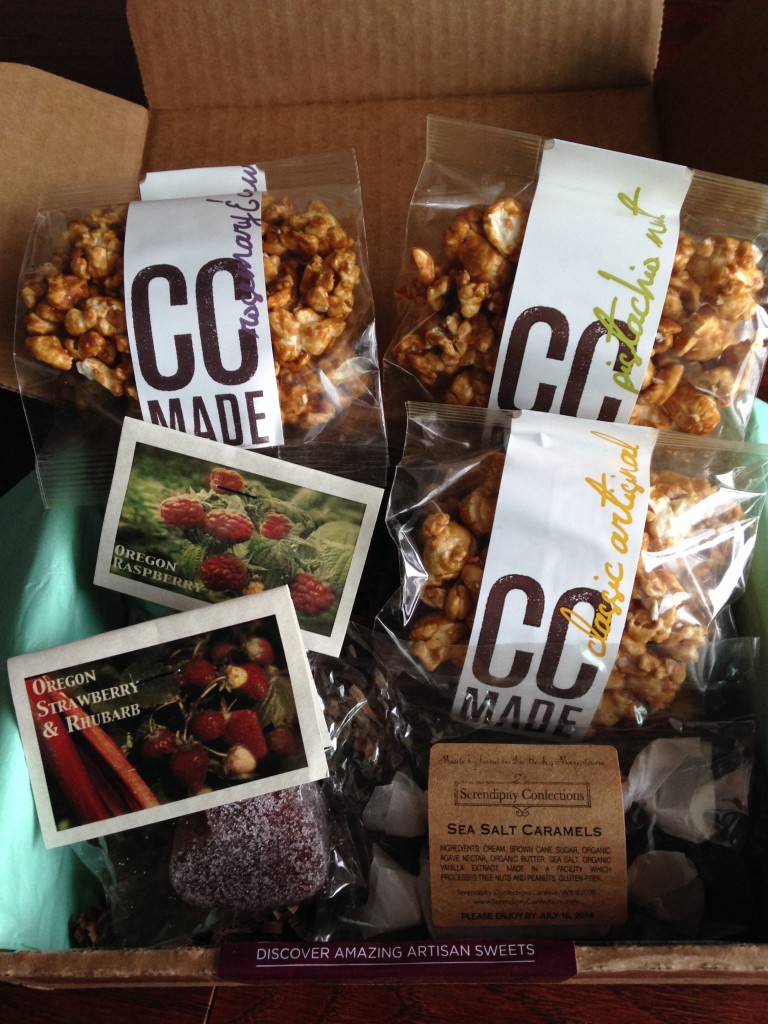 CC Made Caramel Popcorn in Classic, Rosemary & Cashew, and Pistachio: What fascinating flavors! I tried the classic first and it was a solid snack to have. Definitely a really tasty caramel popcorn, with a nice crunch to it. I then tried the rosemary cashew, which was kind of strange but still good. I wouldn't go around eating bagfuls of it, but I liked the unique flair. There were a few bits of cashews mixed in, which was quite different. I haven't tried the pistachio yet, but I imagine it also has nuts mixed in.
Williamette Valley Confectionery Strawberry Rhubarb & Raspberry Sweet Heart Pâte de Fruit: Oh boy, this is a whole lot of sugary sweetness! I couldn't have more than one small bite before needing some water. If you have a major sugar craving, definitely check these out. I may have a sweet tooth, but I can't quite handle this concentration of sweetness.
Serendipity Confections Sea Salt caramels: I can definitely taste the difference the brown sugar makes in these caramels – they're richer and… warmer? It's difficult to describe, but they are quite dense! I did devour them, though I don't know if I'd prefer the brown sugar taste. A solid candy for sure, but just not to my personal taste the way some other caramels are.
They seem to be playing around with the look of their card. They only recently started to include one and this is the most developed look I've seen yet. I wonder if they decided to stick with this? As usual, the bonus item for upgrading to premium just isn't enough for me to want to upgrade. I am perfectly happy with my fewer items. Do these treats appeal to you?
[This post contains affiliate links. Signing up through them helps support my subscription and I'd be ever so grateful. 🙂 All opinions are my own and I received no compensation for this review. I just purchased this box and wanted to share what I got!]
« Prev:Cat cuddling
Food tour:Next »