With the season cooling down, I'm happy to see more chocolates appearing again! The November Treatsie box came with a great treat for starting off the day and chocolates for any time.
Treatsie is $15 per box + $4.95 shipping and comes with artisan candy from 3-4 brands (I am grandfathered in for $15 for 2-3 brands and fewer items). That means about 6 or 7 different flavors of treats (or 4 or 5 for me). Boxes are sent monthly with no option to skip. They offer a referral link program to earn store credit. Use my referral link to get your first box FREE!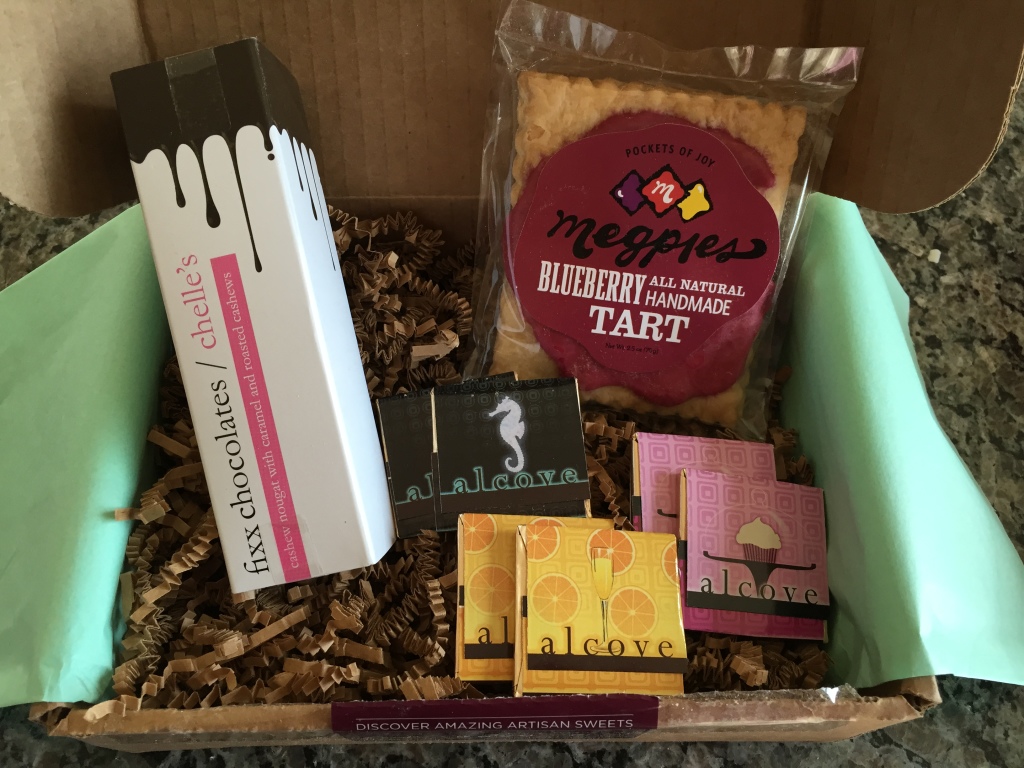 fixx chocolates chelle's cashew nougat bar: I was apprehensive about this at first after reading is was inspired by a Snickers bar's flavor and contents. I've never been a fan of those, so I was wondering how I'd like this, good as it looked. Turns out I had nothing to worry about. The dark chocolate casing is rich and wonderful, with just the right kind of hardness. The inside with the nougat and caramel is sweet and soft, not at all like the icky Snickers. I could actually do with some more cashews since there was hardly any and some crunch would have been nice. This luxury bar may be made of similar ingredients, but it is soooo much better.
Megpies Blueberry Tart: I could instantly smell the butteriness of these the moment I opened them. I thought at first that there were two and I tried prying the crust apart only to realize my mistake. Luckily, it took just a bite or two to cover up that accident. 😉 This is a great dessert or breakfast item and the crust is somewhat like a croissant. I love the blueberry flavoring both inside and on top. I'm a fan.
Alcove Chocolate Fleur de Sel, Mimosa, and Red Velvet bars: Funny enough, my favorite was the mimosa, despite never having had a mimosa before. I guess I'm into that citrus and chocolate pairing, though the bar is a bit sweet so I'd definitely want to have it with something to even out the sugar rush. The textures of the chocolates are all smooth and crisp, which I like. The salt granules in the fleur de sel hit me in little pockets and then blended with the dark chocolate for a stronger dark chocolate sensation. The red velvet is softer, probably because it's milk chocolate and boy does that flavor pack a punch! If you like your chocolates strong and intensely flavored, these are great. I need to pair them with something more bland and eating on them on their own is overwhelming.
This was a lovely box with more surprises than I expected. Some I liked more than I thought I would and some I didn't prefer as much. Still, it's a fantastic selection of products I'm glad I tried. What products do you like best from this box? To get Treatsie, sign up with my link and get your first box free!
[This post contains affiliate links. Signing up through them helps support my subscription and I'd be ever so grateful. 🙂 All opinions are my own and I received no compensation for this review. I just purchased this box and wanted to share what I got!]
« Prev:Escape Monthly November: Hawaii Box review
When the weather is dreary…:Next »