Treatsie is $15 per box and comes with artisan candy from 3 brands. That usually means 5 or 6 different flavors of treats. Boxes are sent monthly with no option to skip. They offer a referral link program.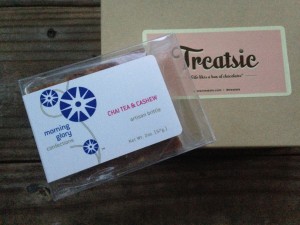 Morning Glory Confections Chai Tea & Cashew Artisan Brittle: Ooo, what an exotic-sounding brittle. I've only ever had peanut brittle, which is one of the few things with peanuts that I actually like! This is with chai tea flavor and cashews, which is very fragrant and warm. It's such a perfect treat for the fall and the crunchiness is super satisfying. Watch out if you have sensitive teeth and can't bite very hard! Might want to put part of a piece in your mouth to let it soften first. Or, if you like hard candies like me you can just dig right in.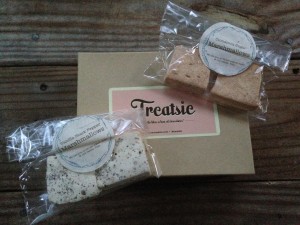 Katherine Anne Confections Vanilla Black Pepper and Cinnamon Sugar Marshmallows: The texture of these marshmallows are amazing – soft and supple yet they just melt in your mouth when you bite in. NOM! I loved the uniqueness of the Vanilla Black Pepper, which was sweet with a kick. So much fun! And of course the Cinnamon Sugar was a lovely sweet aromatic flavor for those of you who don't want the contrast of sweet and spicy.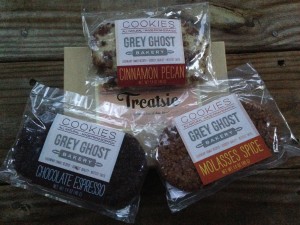 Grey Ghost Bakery Cinnamon Pecan, Chocolate Espresso, and Molasses Spice Cookies: I think one of these is the amazing smell that came wafting up as I was opening the box. Namely, the Cinnamon Pecan, but I can't be sure because there were so many cinnamon items in the box! I love it; it totally reminded me of the fall season. The Cinnamon Pecan is a crisp sort of cookie, which is a bit crumbly. The taste is good but I like more soft cookies. I don't like espresso flavors so I'm saving it for someone else. My favorite was the Molasses Spice that was just the right softness, sweet and fragrant, and had fabulous sugar granules. Oh yes, please.
Did you get a Treatsie box? How do you like these fall-inspired treats?
[This post contains affiliate links. Signing up through them helps support my subscription and I'd be ever so grateful. 🙂 All opinions are my own and I received no compensation for this review. I just purchased this box and wanted to share what I got!]
« Prev:365great Day 189: traditions
365great Day 190: baths:Next »