Let's go back in time to the fall, when I got this AMAZING smelling Yuzen box.
Yuzen is $26 per month and comes with around 5 or 6 eco-friendly beauty, skincare, food/snacks, and home products. Boxes are sent monthly with no option to skip. Sometimes there's a waitlist to get the subscription. They do not offer a referral program.
*Disclosure: As a super fan, I was invited to be the Yuzen Ambassador to help them spread the word about their brand. Starting with the October box, I began to receive them for free. I was not compensated otherwise and all opinions are my own, irregardless of my relation to Yuzen. I just happen to think they're awesome (as does everyone else I've heard from). 

Click on the pictures for the full sizes so you can enjoy all the details of each product!  You can even zoom in to read all the messaging.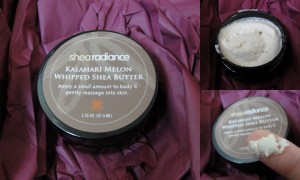 Shea Radiance – Kalahari Melon Whipped Shea Butter: The first thing that I pulled out was this tub of very thick whipped shea butter. I liked the idea and the texture, but I am not a fan of the smell. For some reason the smell of shea butter doesn't appeal to me, though I love the product. I can't quick pick out the melon scent, or possibly I'm mistaking it for the shea's natural scent. The butter is also not as soft as I expected – it's actually pretty solid, though it is fluffy. I'm going to pass this on to someone else to use because I think it's a good product.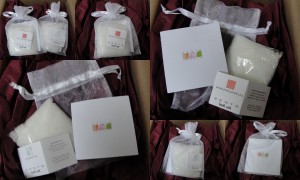 Zents – Mandarin & Earth bath salts: As soon as I could get these out of the bag, I reached for them! They smell fabulous! I didn't even want to use them at first because I loved getting a whiff of them just by putting them in the room. It was a great way to scent my room and promote a relaxing atmosphere. When I finally did get around to using them, I was enjoying the aroma so much I hardly even paid attention to how it made my skin feel. It was definitely a very pleasant experience to bathe with these salts and I actually liked the combination of their scents a lot so I mixed them. There's a sweetness and earthiness that make a lovely blend.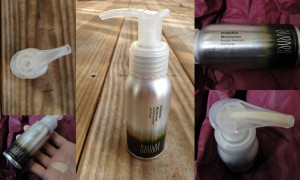 Savane Organic Skincare – Protective Moisturizer: This is a brown-colored lotion that is more runny than most I'm used to. It comes come in an elegant stainless steel bottle and incorporates exotic ingredients I haven't heard much of, like baobab, manketti, and yangu. It has a scent I can't quite place that is very unique. It goes on smooth and doesn't leave any greasy residue and the small bottle and pump are great for putting on your desk, keeping in the car, or even in your bag if you are careful the pump doesn't get pushed.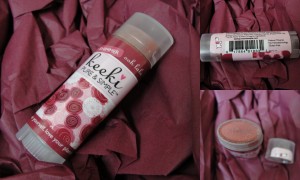 Keeki Pure & Simple – Ooh La La Organic Lip Shimmer Stick: What a cute little lip shimmer! It's a fun oval shape, which I've never seen before and I'm a sucker for unique packaging. It reminds me a lot of the Burt's Bees lip shimmers – almost the same color and "shimmeriness" to it. There's even a hint of minty freshness as well. It goes on well and is very smooth. I've been using it a lot whenever I need a lip balm or want to spruce up my lips.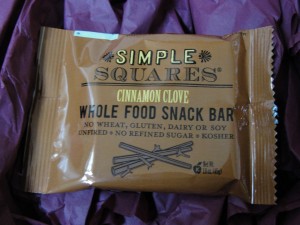 Simple Squares – Cinnamon Clove Whole Food Snack Bar: I ate this up so fast I forgot to take pictures of the actual bar! That's a good sign for its taste. It has a chunky sort of texture so when you bit in it wasn't just some mushy bar. I liked that, as well as the flavor. Great little snack to have whenever you need a sweet boost that won't leave you thirsty. I would get more if I ever ran into them.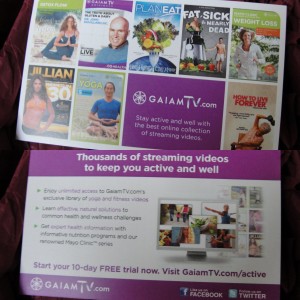 Gaiam TV – Free Trial Offer & Info Card: Gaiam TV (.com) provides all kinds of streaming videos to promote wellness, whether it's exercising, eating well, meditating, or taking supplements. It's a great place to find videos to inspire, motivate, guide, and teach anyone who wants to live healthier. I actually haven't tried this trial, but I had tried a different one previously and if I watched TV I might get it, but I just wouldn't use this site fully.
Another great box that provided a diverse selection of products! I love how everything had a warm feeling and really set the mood for the fall.
« Prev:365great Day 85: glow sticks
365great Day 86: surfing:Next »